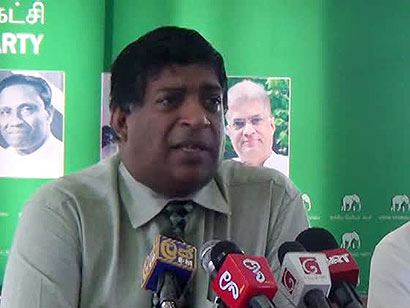 The State-owned Chinese company that initiated the Colombo Port City Project worth US $ 1.4 billion has failed to produce the Cabinet approval and the vital environmental clearance certificate on the feasibility of the project, Finance Minister Ravi Karunanayake said.
The ambitious project, meant to be part of China's 21st Century Maritime Silk Road, was suspended by the new Government that took office on January 9, following the surprise defeat of two-term President, Mahinda Rajapaksa.
The project was suspended on the basis that it was replete with irregularities. "The Chinese company has produced everything but these documents", the Minister told the Foreign Correspondents' Association, at his Ministry on Thursday. Responding to journalists' queries on the possible ramifications for Sri Lanka in the event of a total cancellation of the mega project, Karunanayake said it would mean that the Sri Lankan Government would have to pay Rs. 12 billion (US$ 90 million), in addition to reimburse the cost of the work already completed.
He said other Chinese-funded projects were continuing without any issues.
(Daily News)