Many Sri Lankans want a strongman leader, and that favors Gotabaya Rajapaksa
Posted by Editor on August 11, 2019 - 7:12 am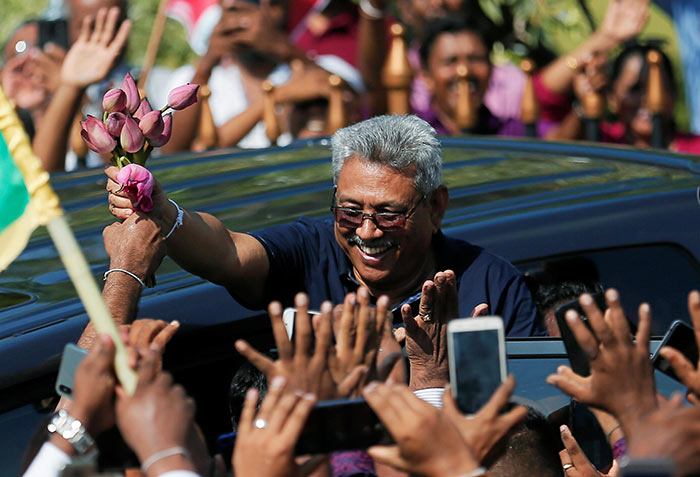 Sri Lankans, angered by the government's inability to prevent the Easter Sunday terror attacks that killed more than 250 people, want a strongman back in power who can guarantee their safety and bring back economic growth.
Many are rooting for Gotabaya Rajapaksa, who despite fighting allegations of war crimes, is expected to be announced as the presidential candidate of the opposition nationalist Sri Lanka Podujana Peramuna (SLPP) party, as early as Sunday.
The Rajapaksa brothers, Gotabaya and Mahinda, were credited with bringing peace to Sri Lanka in 2009 by defeating the Tamil Tigers in a brutal end to the 26-year-long civil war between the Sinhalese Buddhist majority and minority Tamil groups. Gotabaya was the defense secretary at the time and Mahinda the nation's president.
"The people have requested a leader who can ensure their security," Basil Rajapaksa, founder of the SLPP and youngest brother of Gotabaya and Mahinda told reporters on Thursday.
Gotabaya is facing lawsuits in the United States for instigating and authorizing the extrajudicial killing of a journalist and of war crimes against the Tamils during his time as defense secretary.
He has denied the allegations and said the lawsuits, brought by torture survivors and the daughter of the slain journalist, were timed to thwart his possible presidential run. A final date for the presidential elections has not been decided but must be held before Dec 9.
(Reuters)
Latest Headlines in Sri Lanka