Mathews is a natural leader, says Sangakkara
Posted by Editor on February 24, 2013 - 11:18 am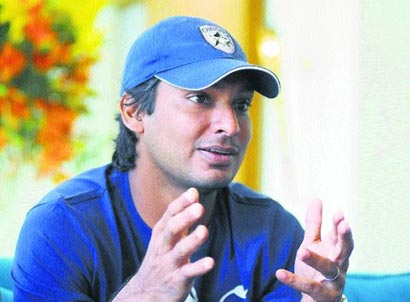 Like Australia and India, Sri Lanka too are in the throes of transition, though from their perspective, it's as much to do with the leadership group as the playing group.
Last week, Sri Lanka's selectors left out Thilan Samaraweera, the experienced batsman, and Prasanna Jayawardene, the wicketkeeper, while appointing Angelo Mathews, until recently the Twenty20 International skipper, as the Test and One-Day International captain and making Dinesh Chandimal the T20I captain. The captaincy switch came following Mahela Jayawardene's decision to stand down from the Test and ODI leadership roles after the recent tour of Australia.
Kumar Sangakkara, the former skipper who, like Jayawardene and Tillakaratne Dilshan, was closer to the end of his career rather than the beginning, said there was no such thing as senior or junior, and that it all boiled down to performance on the field.
"The term 'senior' is quite an interesting term," said Sangakkara on Saturday (February 23). "You only get it when you have performed. If you don't perform, you won't be in the side. The pressure to perform is there on everyone and it does not matter who the selectors are, you got to perform."
"And that's one thing that all of us know," said Sangakkara, in Bangalore as part of a Sri Lankan Tourism delegation. "I don't think anyone is given a place for the sake of a place. Whether they play a youngster, they got to take that position from a senior player and it is based on performance. Decisions in the future will be tough but I am sure they (the selectors) know what they are doing."
On Friday, Sanath Jayasuriya, the new Sri Lankan chairman of selectors, had emphasised that Sri Lankan fans didn't look too kindly at their youngsters coming over to play in the Indian Premier League. "I think that's a valid comment because it is about technique," said Sangakkara, one of several Sri Lankans who have come to become an integral part of the IPL. "Technique is very important for Test cricket and whoever plays the shorter version of the game, when they play Test cricket it is a completely different challenge. More technical accomplishment is required and that is why Jayasuriya said that and I completely agree with that.
"When you are a youngster, you cannot get carried away by just playing T20. That's why in Sri Lanka, there is a lot of emphasis on youngsters playing Tests and then expanding their repertoire to play the shorter versions."
The inevitable question about the succession issue and whether there was enough talent to replace himself, Jayawardene and Dilshan in the future was met with, "You need the best younger players coming in all the time and at the same time, you need the best performing players in your side as well. Performance ultimately is about winning or losing games and we have a great stock of younger players coming through. We are very, very happy that we play a big part in guiding them. At the same time, our careers are coming to an end sooner than later and by that time, we should ensure that there are enough capable youngsters to keep on winning for Sri Lanka."
Sangakkara threw his weight behind Mathews. "It is a great challenge for the players. I have seen Angelo Mathews grow as a player, he is a leader and there is a lot more you can get out of him," said Sangakkara. "He is a natural leader and then Chandimal is young and for him it is important to gain exposure, build his image and slowly become the next leader after Angelo. I think it is a good combination but we need to give them patience and time." (WisdenIndia)
Latest Headlines in Sri Lanka