Megapolis Development Plan presented to President
Posted by Editor on December 31, 2015 - 9:12 am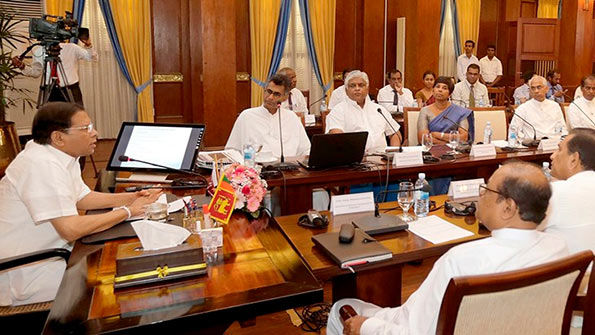 The Megapolis Development Plan formulated for entire megapolis development in the island including Western Province was presented to President Maithripala Sirisena yesterday (Dec. 30) at the Presidential Secretariat.
At this occasion, the President said everybody should contribute to make the Megapolis Development Plan, the main development project to be implemented by the government in the new year successful.
He said the Megapolis Development Plan will be implemented at the beginning of 2016. "Every ministry, department and government officer should fulfill their responsibilities in that regard, considering it as a prominent task", he said.
The aim of this plan is to transfer informal urban development into formal urban development and thereby increase the happiness of the people. Beautification of the towns as well as boosting the living standards of the people will be done through this development plan.
The Megapolis Development Plan has identified issues that should be given priority in the town development. It has paid attention to traffic congestion, garbage disposal and housing facilities for slum dwellers as well as drinking water and sanitary facilities.
The implementation of the development plan will be carried out under three phases and will be completed by 2030.
The President said this plan aims at developing every mega town to a similar level and thereby reduce the number of people who are migrating to Colombo, seeking better facilities.
Minister of Megapolis and Western Development, Patali Champika Ranawaka said Sri Lanka will be able to get about USD 30 billion worth investments within next 10 years through this megapolis development project.
Ministers Rajitha Senaratne, Susil Premajayantha, Arjuna Ranathunga and Western Province Chief Minister Isura Dewapriya also participated in this occasion.
(President's Media)
Latest Headlines in Sri Lanka