Mervyn Silva Did Not Lodge Complaint Against Gotabaya Rajapaksa: CID
Posted by Editor on November 12, 2015 - 6:21 am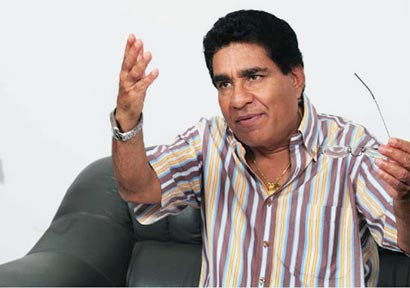 The CID informed Colombo Magistrate's Court that former Minister Mervyn Silva did not lodge a complaint against former Defence Secretary Gotabaya Rajapaksa regarding the 'white van abductions'.
This was revealed when a habeas corpus filed by relatives of three missing persons was taken up for hearing by Colombo Chief Magistrate Gihan Pilapitiya.
Silva had only tendered a letter on the alleged abductions but it is not a complaint, CID informed court. The Attorney General also confirmed this fact.
Silva visited the CID in January this year days after the Mahinda Rajapaksa government fell, and told media that he complained against Gotabaya Rajapaksa and Basil Rajapaksa. He added that he has information on the white van abductions.
The Colombo Chief Magistrate Gihan Pilapitiya issued notice to Silva on August 25 this year regarding the habeas corpus. Silva was present in court today.
The Magistrate ordered the CID to submit the documents handed over by Silva. The court will then decide if Silva will be called as a witness in the case, the Magistrate further directed.
The case was fixed to be heard again on January 26, 2016.
(Source: Asian Mirror)
Latest Headlines in Sri Lanka