Sri Lanka to prosecute Avant Garde, revokes 'agreement'
Posted by Editor on November 12, 2015 - 6:12 am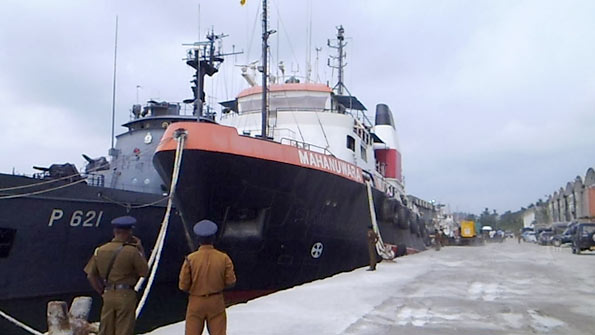 Sri Lanka's government Wednesday decided to revoke a purported agreement Avant Garde had entered into with the defence minister under former secretary Gotabhaya Rajapaksa and asked the navy to take over the private firm's operations.
Cabinet spokesman Rajitha Senaratne said President Sirisena ordered the immediate cancellation of the so called joint venture deal between the private security company and the defence ministry's private arm known as RALL.
"The ordered the IGP and the Attorney General's department to take legal action against Avant Garde within a week," Senaratne told Economynext shortly after the weekly cabinet meeting.
He said Inspector General of Police N. K. Illangakoon claimed ignorance over the arms scandal, but was censured by the cabinet which had pitched into him for not carrying out a thorough investigation.
"I don't know Avant Garde people, I have not taken any money from them," the police chief reportedly told the cabinet today.
Justice Minister Wijayadasa Rajapakshe, who had put up a staunch defence of Avant Garde and insisted that the private maritime security company had done no wrong, remained silent during a heated discussion.
The President had summoned Attorney General Yuwanjana Wanasundera to attend the meeting along with Additional Solicitor General Wasantha Navaratne Bandara. Unlike the Attorney general, his deputy Bandara had maintained there was sufficient grounds to arrest Gotabhaya Rajapaksa and prosecute Avant Garde, but his opinion had been overruled.
Government sources said Bandara had been prevented from attending the meeting and instead controversial Solicitor General Suhada Gamlath had been present to answer questions about the slow pace of AG's department work.
"It was clear from the meeting that what we have been saying all along was correct. There is enough evidence to prosecute is the AG wanted to," Senaratne said.
He said the latest audit of weapons aboard a second floating armoury of Avant Garde at the Galle harbour turned up 59 illegal weapons which were sufficient to arrest owners of Avant Garde. The serial numbers of the automatic weapons had been obliterated to prevent them from being traced to original owners.
"Even if a person is caught with a gal katas (crude local weapon) police will lock them up, but in this case there are 59 illegal weapons and the AG and the police have thought it fit not to prosecute," Senaratne said. "This is a shame."
He, however, said the President's action to halt the Avant Garde operations and let the navy take over would help stem a wave of criticism against the government.
Both Senaratne and Megapolis Minister Champika Ranawaka had threatened to resign if no action was taken against former Law and Order Minister Tilak Marapana who made a statement in parliament defending Avant Garde. The ruling UNP during its election camopaign had claimed that Avant Garde was an illegal operation. But the company maintained they had a partnership agreement with the defence ministry's Rakna Araksha Lanka Limited (RALL).
Marapana quit on Monday, but official sources said a powerful section of the cabinet was now gunning for Justice minister Rajapakshe.
(Source: Economy Next)
Latest Headlines in Sri Lanka