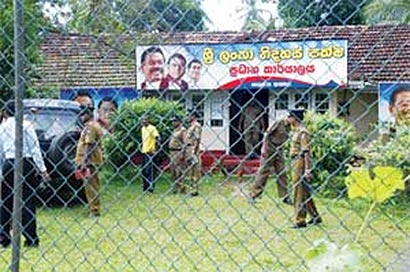 In the wake of last Friday's killing of Kelaniya Pradeshiya Sabha member Hasitha Madawela, police yesterday raided the main SLFP political office in Kelaniya
A special police team, deployed by the Western Province (North) Crime Division, recovered two swords and a hand grenade from a house adjacent to the SLFP Kelaniya branch office.
Police spokesman SSP Prishantha Jayakody said that the Western Province (North) Crimes Division, acting on a tip off, also arrested a woman who was living in the house.
He said that the house was located on the same land, where the SLFP Kelaniya office was situated and the area was called Nunnangoda.
On Saturday night SLFP Kelaniya Pradeshiya Sabha member Hasitha Madawala was shot dead by an armed motorcyclist outside his residence in Waragoda.
The Criminal Investigation Department (CID), probing the high profile killing, arrested five suspects, including the alleged assassin, on Tuesday as he was trying to leave the country from the Bandaranaike International Airport. The police identified the gunman as an aide to Public Relations Minister and SLFP Kelaniya Organiser Mervyn Silva.
Meanwhile, the SLFP promised disciplinary action against Minister Silva if allegations of his links to the killing of Madawala were proved right.
Addressing a media briefing at Mahaweli Centre Colombo, Sports Minister Mahindananda Aluthgamage said that there was an allegation that minister Silva was behind the killing, but it must be ascertained by the CID inquiry.
"If the SLFP Kelaniya orgniser's involvement is proved, the party would not hesitate to take disciplinary action against him," Aluthgamage said.
Courtesy: The Island