Microsoft names India-born Nadella as next CEO, Gates to advise on technology
Posted by Editor on February 5, 2014 - 9:22 am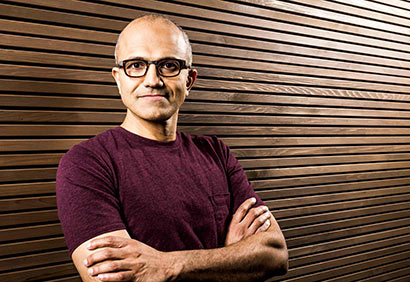 Microsoft Corp named 22-year company veteran Satya Nadella as its next chief executive officer on Tuesday and said co-founder Bill Gates would step down as chairman and advise the new CEO on technology, marking an epochal change of control at the company that drove the PC revolution.
Nadella, a 46-year old born in India who led the creation of Microsoft's Internet-based, or "cloud" computing services, is only Microsoft's third CEO in 39 years, taking over from Steve Ballmer, who inherited the job from Gates in 2000.
The move ends a five-month search process at the Redmond, Washington-based company, triggered by the August announcement of Ballmer's decision to retire. That was longer than many investors had expected.
"It's a relief this process is over," said Daniel Ives, an analyst at FBR Capital Markets. "Many investors view it as the 'safe pick' as Mr. Nadella is a born-and-bred Redmond insider. But the uphill battle continues for Microsoft on its path to growth."
Microsoft's new chairman John Thompson, who led the search for a CEO, said the process went as planned.
"We aimed to complete the process within four to six months, and we met that goal," Thompson said in a video statement on Microsoft's website. "After reviewing all of the candidates, Satya was our first and unanimous choice."
Gates said Nadella's experience in cloud computing made him the right man to lead Microsoft, as the company struggles to find its feet in the new arena of mobile computing.
"Satya's got the right background to lead the company during this era," said Gates. "There's a challenge in mobile computing. There's an opportunity in the cloud."
Thompson did not mention other candidates, although sources close to the company have told Reuters that at one time Ford Motor Co (F.N) CEO Alan Mulally was a leading contender.
PC EROSION
As he relinquishes the chairman's title, Gates will stay on the board and assume a new role as technology adviser to Nadella.
"Satya's asked me to step up, substantially increasing the time that I spend at the company," Gates said in a video statement. "I'll have over a third of my time available to meet with product groups. It'll be fun to define this next round of products, working together."
Gates left day-to-day work at Microsoft in 2008 to focus on philanthropy at his Bill & Melinda Gates Foundation, which he says is still his main job.
Shares of the world's largest software maker were up 0.2 percent at $36.54 on the Nasdaq on Tuesday morning.
Nadella, who describes himself as a cricket and poetry lover, called the appointment "humbling" in an email to the company's employees. In a videotaped statement he said he would focus on "ruthlessly" removing any obstacles to innovation at the company.
Apart from Mulally, Nadella also beat out various other candidates for the job. Several were close to the company, like Stephen Elop, who is set to rejoin Microsoft when its acquisition of Nokia's (NOK1V.HE) handset business closes, and Tony Bates, the former Skype boss now in charge of Microsoft's business development.
Investors and analysts are already weighing how effective Nadella will be in reigniting the company's mobile ambitions and satisfying Wall Street's hunger for cash.
Microsoft faces a slow erosion of its PC-centric Windows and Office franchises and needs somehow to challenge Apple Inc (AAPL.O) and Google Inc (GOOG.O) in the new realm of mobile computing. At the same time, some investors are campaigning for retrenchment and a bigger cut of the company's massive cash pile.
Most agree that Nadella's background makes him a safe pair of hands to take the company forward, but there remains a question over his ability to make Microsoft a hit with consumers or with impatient shareholders.
(Reuters)
Latest Headlines in Sri Lanka