US: Sri Lanka refuses visa for State Dept official after war crime accusations
Posted by Editor on February 5, 2014 - 8:22 am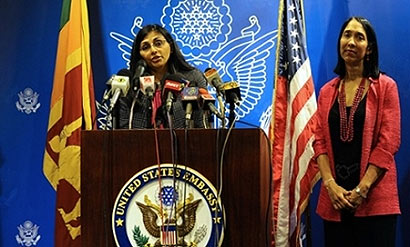 (Reuters) – Sri Lanka has refused a visa request for a U.S. State Department official, the U.S. Embassy said on Tuesday after Washington signalled it would propose a U.N. resolution against the South Asian state over alleged war crimes.
Tensions rose after U.S. Assistant Secretary of State Nisha Biswal voiced frustration on Saturday over Sri Lanka's failure to punish military personnel responsible linked to reported atrocities in a civil war that the Colombo government won in 2009 against separatist Tamil rebels.
Biswal, speaking after a two-day visit to Colombo, said Washington would table a third U.N. human rights resolution against Sri Lanka in March to address the allegations because its human rights climate has been worsening.
The U.S. Embassy in Colombo said the Sri Lankan government had turned down a visa application for Catherine Russell, the U.S. ambassador-at-large for global women's issues, and it called the decision "regrettable".
Russell had been scheduled to visit Sri Lanka in line with her mandate to promote stability, peace, and development by empowering women politically, socially and economically.
"The United States will continue to raise important issues related to gender-based violence, the impact that the conflict had on families (particularly female-headed households), the need for greater economic empowerment by women, and for greater political participation by women across Sri Lanka," the embassy said in an emailed statement.
Biswal said that during her visit people in Sri Lanka's former northern war zone referred to a range of human rights abuses including the disappearance of civilians.
President Mahinda Rajapaksa's government, which finally crushed the rebellion of the Liberation Tigers of Tamil Eelam (LTTE) 26 years after it erupted, has rejected calls for an international inquiry, saying this would be aimed only at pleasing a large Tamil diaspora living in Western countries.
Senior U.S. officials declined to say what would be in the planned resolution, but embassy officials said it might repeat the call for an international investigation in Sri Lanka.
Sri Lankan officials were not immediately available for comment on the reported visa refusal. But Rajapaksa, speaking at Independence Day celebrations on Tuesday, said unidentified foreigners were trying to use "northern people", a reference to ethnic Tamils, as "human shields".
"The invaders always came to our country shedding oceans of crocodile tears. They interfered…, putting forward claims to protect human rights, establish democracy and the rule of law.
"I see the attempts to level charges of war crimes against us in Geneva today as the triumph of those who are not in favour of peace … These are not founded on peace, fair play or justice," Rajapaksa said.
Sri Lanka has rejected U.S. criticism of its human rights record as "grossly disproportionate".
A United Nations panel has assessed that around 40,000 mainly Tamil civilians died in the final few months of the war. (Reuters)
Latest Headlines in Sri Lanka