Milinda Moragoda to Colombo voters: Go beyond narrow politics and endorse ability
Posted by Editor on September 6, 2011 - 8:49 am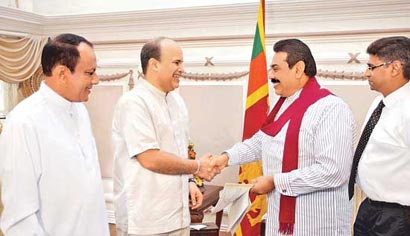 United People's Freedom Alliance (UPFA) Colombo mayoral candidate Milinda Moragoda yesterday launched his policy platform entitled 'Making Colombo a Centre of Excellence' that promised to restore efficiency, transparency and accountability at the Colombo Municipal Council and to restore the stature of the city and dignity of its citizens.
Mayoral candidate Milinda Moragoda at the press conference held at the Mahaweli Centre auditorium said that as an initial step a 12-point 100 day programme will pave way for making Colombo a centre of excellence. He called the policy platform an evolving task and an incomplete document which is only the starting point. He invited the public for input of ideas, comments and suggestions via telephone and social media platforms, such as Twitter and Facebook.
He added that the inputs from the public will be incorporated into a revised document that would be issued prior to the election.
Moragoda further stated that though the Colombo Municipal Council was second in stature only to Parliament, the administration had collapsed there. He added that inefficiency seemed to be another defining character.
The Mayoral candidate requested the voters to move beyond politics and to cast their vote based on whether the candidate has the ability to develop Colombo to its full potential.
He also stated that under the policy platform the front office functions of the CMC will be relocated at six district offices and back office functions will be moved out from Town Hall to where employees live in the city, all connected through a wide area network.
He added that no citizen will be relocated outside metropolitan Colombo and 35,000 housing units would be built within city limits in the next three years to provide housing of decent quality to those currently living in shanties.
The policy platform said well maintained pavements and pedestrian crossings are required by vehicular traffic also promises an attractive circulatory bus service with simplified fares.
Young people in the 18-28 age group are promised a comprehensive program to help them establish livelihoods that will include financial and technical assistance to establish small businesses and develop skills needed to find gainful employment providing no room for anyone in this age group to remain idle or unemployed. Job fairs starting with one in the first 100 days will be organized in cooporation with the private sector.
According to the policy platform, model community centres with gyms as well as model municipal dispensaries would be set up and lessons learnt from the model projects would be incorporated into larger upgrading efforts as well.
Mayoral candidate Milinda Moragoda stated that Colombo will be transformed in to a exemplary city.
UPFA General Secretary and Petroleum Resources Minister Susil Premajayantha, Youth Affairs Minister Dullas Alahapperuma, Deputy Ministers Faizer Mustapha, Laxman Yapa Abeywardena and Prof Rohan Samarajiva were also present
Courtesy: Daily News
Latest Headlines in Sri Lanka