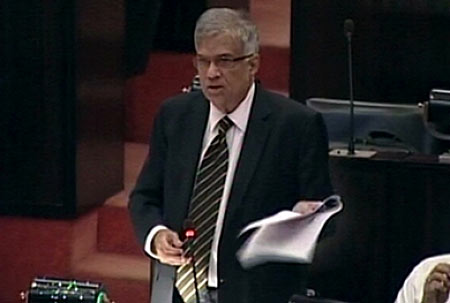 Prime Minister Ranil Wickremasinghe said that the Rs.10,000 monthly allowance given to the government employees will be added to their basic salary in three stages from next year January.
Prime Minister Wickremasinghe made the observation at the Parliament this afternoon (14).
Wickremasinghe added therefore Rs.2000 will be added to the basic salary from next year January as the first stage of the process.
The Trade Unions had earlier announced they will launch an island-wide strike if the Government fails to address their issues. The Trade Unions demanded that all allowances of the public sector employees must be added to the basic salary within the forthcoming days as promised by the new government earlier.
The Prime Minister also vowed that the Pension Scheme of the public sector would not be affected.
He added that vehicle emission test fee will be made Rs. 1500 as an interim measure  and annual revenue licensing fee will also be reduced from 25% to 15%. Lease valuation fee will be be Rs.5000 for motor cars, Rs 3000 for three wheelers and motorbikes with the new proposals.
(Ada Derana)