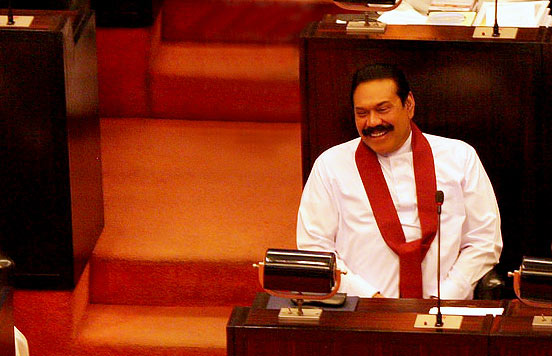 Former President and Kurunegala District MP Mahinda Rajapaksa yesterday demanded to know why Inspector General of Police Pujith Jayasundara had not followed recommendations by the National Police Commission as regards the service promotions.
Participating in the Second reading debate on the Value Added Tax (Amendment) bill, MP Rajapaksa said: "Today, this parliament is debating the revision of emoluments and other allowances of the chairpersons and members of the nine independent commissions.
The commissions are to give directions to respective organisations coming under their purview. The National Police Commission is to give directions to the Police Department. But the IGP does not follow some recommendations given by the National Police Commission. The IGP is the highest ranking officer of police and he overlooks the police commission recommendations. Can you expect his junior officers and policemen to abide by the directions of the Police Commission, in such a situation? If a higher rank officer can ignore recommendations of these commissions with impunity, what's the use of establishing them? What's the point in increasing their allowances if officials do not follow their recommendations?"
The Former President said neither he nor the Joint Opposition had any problem with increasing allowances of members of nine independent commissions.
"Do not get me wrong here. We have no problem with increasing their allowances. But our problem is that officials like the IGP do not follow their recommendations. For an example, the National Police Commission recommended the promotion of SSP Kilinochchi, Palitha Siriwardena. But that recommendation has been delayed by IGP Jayasundara." Minister of Public Administration and Management and Law and Order, Ranjith Madduma Bandara said that SSP Siriwardena had been given a charge sheet.
"According to the Establishment Code, a state worker cannot be promoted if that person has allegations against him or her. That is why the promotion, MP Rajapaksa mentioned has not happened thus far," the Minister said.
Rajapaksa said: "The National Police Commission recommends something after conducting a thorough investigation. It is not fair to delay promotions they recommended when someone makes a complaint against an officer after he or she was promoted. You should be more considerate."
(Source: The Island – By Saman Indrajith)