MR says will engage with IMF
Posted by Editor on November 23, 2018 - 6:31 am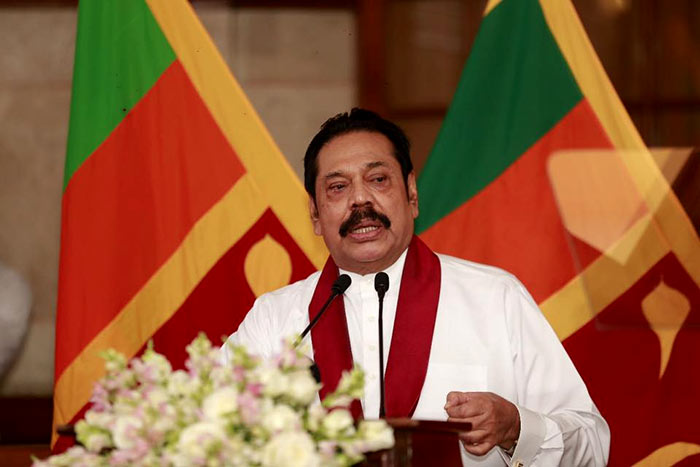 President Maithripala Sirisena-appointed Prime Minister Mahinda Rajapaksa is to engage with the International Monetary Fund (IMF) and other agencies to achieve inclusive development.
Plans to engage with the multilateral donor agencies were disclosed by Rajapaksa as Finance Minister at this week's Cabinet meeting.
"We expect to engage with the IMF along with other financing agencies," Rajapaksa told Cabinet in a memorandum on the state of the economy. Such engagement, he said, would be to design an inclusive development program with priorities being attached to environment, agriculture, renewable energy and SMEs, as outlined by the President to create a socially and economically sustainable development path to fulfil the aspirations of the people.Given the concerns of legitimacy and credibility, some were sceptical over plans by the MS-MR administration to engage with the IMF and others, though some welcomed the move.
On Tuesday the IMF confirmed it had delayed discussions on the next loan tranche due to Sri Lanka under the three-year Extended Fund Facility (EFF). To date, the IMF has disbursed over $1 billion out of a $ 1.5 billion agreed in 2016. The total loan was expected to have been disbursed with a seventh tranche by mid-2019.
In September, the IMF said its mission had made significant progress toward "reaching a staff-level agreement with the Government on completing the fifth review of the EFF and discussions will continue during the annual meetings of the IMF and World Bank in October".
On Tuesday an IMF spokesman told Reuters via email: "We are monitoring the situation and remain in close contact with our technical counterparts in Sri Lanka… Program discussions on the 5th review of the IMF's Extended Fund Facility are currently on hold, pending clarity on the political situation."
After completion of the fifth review Sri Lanka would expect to receive a sixth tranche of about $ 250 million. The aim of the EFF in 2016 was to avert a financial crisis and support the economic reform agenda of the Government then in power.
(Source: Daily FT)
Latest Headlines in Sri Lanka