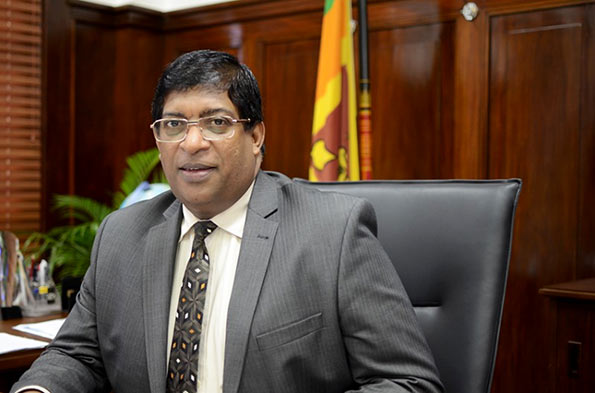 At a time when the country needs more buses to streamline the services of Sri Lanka Transport Board; it has to pay a heavy cost instead for super luxury airbuses that had been ordered by the previous regime, Minister of Finance Ravi Karunanayake said. The Minister pointed out that the country is compelled to face a heavy economic liability as it is bound to import these expensive airbuses.
Minister Karunanayake further said that such heavy allocation of Government money to import super luxury airbuses could have been used to provide every necessary infrastructure facility for the education sector thereby providing school equipment, laboratories and other needs to uplift the entire education system of the country. The Minister expressed these views during a ceremony held to mark World Children's Day on 2 October at Sanghabodi Maha Vidyalaya in Thotalanga. Minister Karunanayake donated some school equipment including a stock of sports gear to the Sanghabodhi Maha Vidyalaya during the ceremony.
Finance Minister Ravi Karunanayake further expressed his views saying: "We are currently busy preparing the Budget for 2017. We face grave difficulties in offsetting unnecessary expenditures incurred by certain authorities in the previous regime when allocating funds for education. We are paying a heavy price today for the arbitrary procurements for SriLankan Airlines. The super luxury A350 airbuses will be reaching the island in near future. These airbuses have been purchased at very high costs, so much so that we are compelled to pay a monthly installment of $ 1400 m despite its real cost being $ 950 m. These airbuses have been over-vouchered by 25% of its real value. The authorities of the previous regime have followed a wrong tender procedure, therefore the country had to pay more than the real cost of these aircraft.
These A350 airbuses are capable of flying nonstop over 17 hours. My question is: what countries in the world did the authorities of the previous regime want to fly by these airbuses to? Do we have so many an overseas destinations? Therefore, we have decided that we cannot continue this project. If we continue the project we will have to incur a loss of $ 890 m a month. Accordingly, as a measure to minimise such a huge loss, we requested the aircraft leasing company to hold the fleet of A350 aircraft. However we are still compelled to bear a loss of $ 19.6 b.
We could have invested this huge amount of money to uplift education in the country. We could have provided children books, textbooks and other necessary school equipment and built school laboratories. We could have built another 100,000 or 200,000 houses for the needy. The procurement of A350 airbuses have been carried out completely arbitrarily and without any transparency. Unfortunately, we are compelled to pay the heavy price for the sins committed during the previous regime", Finance Minister Ravi Karunanayake explained.
Finance Minister Ravi Karunanayake further said that the duty and responsibility of the media is to expose this type of corruption and malpractice.
(Source: FT.LK)