Year 2017 will be a transformational year for building houses – President
Posted by Editor on October 4, 2016 - 7:31 am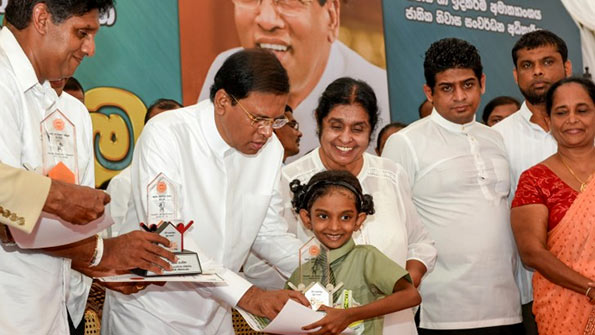 President Maithripala Sirisena, recalling that the year 2017 has been declared as the year for alleviation of poverty, says the proposal including the plan for building houses on this regard, will be presented to the Cabinet next Tuesday.
The President was speaking at the occasion to vest the Sugaladevigama model village in Nuwaragala, Dimbulagala in Polonnaruwa with public yesterday (Oct. 03).
"It's not my nature to remove plaques of the projects initiated by former leaders, to replace my name and open them", he said.
"Throughout a year I used not to reply the former leaders' comments in media which state that the new government is not doing anything new. But I have decided to reply them as they are doing it repeatedly", he added.
"It is the responsibility of a government to allocate provisions for the projects of the former governments which have been stopped half way, and to continue those projects", the President stated.
"The government has taken actions to allocate provisions for balanced development in every province in the country. The agenda of the current government is to develop the entire country, instead of the agendas by the other leaders to develop their areas", the President stated.
The 'Sugala Devigama' model village, built under the National Housing Program 'Semata Sevana' was vested with public under in line with the 3th anniversary of the World Habitat Day – 2016.
Minister of Housing and Constructions Sajith Premadasa, State Minister Wasantha Senanayaka, Deputy Minister Indika Bandaranayake, Chief Minister of Northern Central Province Peshala Jayarathne and the Secretary to the Minister of Housing and Constructions W. K. K. Athukorala and the Chairman of the National Housing Development Authority were among those participated in this occasion.
(President's Media)
Latest Headlines in Sri Lanka