Mutiah Muralidaran joins Australia's cricket coaching team for Pakistan Test series preparation
Posted by Editor on June 18, 2014 - 10:30 am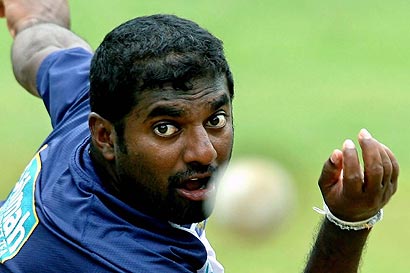 Sri Lankan spin king Muthiah Muralidaran has joined Australia's coaching team to help the squad prepare for its Test series against Pakistan.
The world's most successful Test bowler will join the Australian squad ahead of the Test series against Pakistan in the United Arab Emirates in October.
The signing is a coup given Muralidaran's knowledge of the doosra delivery which has long baffled the Australians and with Pakistan's Saeed Ajmal among the game's most potent mystery spinners.
"I'm very much excited; I know the Australian team is a very good side, but hopefully I can have a little bit of input to help them do well in the series against Pakistan," Muralidaran told the Cricket Australia website.
"Those conditions might help spinners and I know a few tricks that might help them on what to do as I have played a lot of matches in those conditions in the UAE and hopefully I can help them a little bit."
Australia coach Darren Lehmann said Muralidaran's role would be similar to that filled by fellow spin legend Shane Warne on the recent tour of South Africa.
He said the 42-year-old, who has endured a famously chequered relationship with Australia since his controversial second Test here in 1995, would also mentor incumbent Test off-spinner Nathan Lyon.
The pair are currently working together in Sri Lanka.
The month-long series against Pakistan is expected to favour spin bowlers after Ajmal destroyed England's batting during their 2012 tour in the UAE, capturing 24 wickets in three Tests at less than 15 runs apiece.
"Ajmal is a difficult customer for all the best batsmen in the world, but he bowls a little bit similar to me so perhaps if I can bowl to the Australian batsman it might help a little bit and give them some tips," Muralidaran said.
"Nathan Lyon has been bowling brilliantly but hopefully I can help him a little bit on how to bowl in these subcontinent conditions, on how to use the conditions and how to set up the field."
Lehmann said the fact that Australia has won just a solitary Test series in India (in 2004) in more than 40 years highlighted the need to address the nation's batting frailties against spin bowling and the effectiveness of their spinners on the subcontinent.
(AAP)
Latest Headlines in Sri Lanka