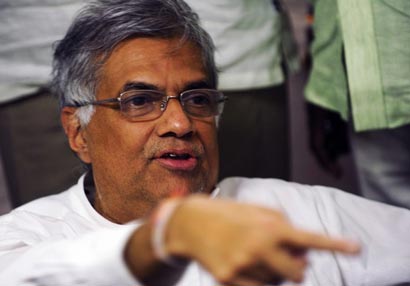 UNP Leader Ranil Wickremesinghe has told Opposition Leader of the Uva Provincial Council Harin Fernando that naming a prime ministerial candidate in the run-up to the forthcoming presidential election is not realistic as the party was campaigning for the abolition of the executive presidency.
Wickremesinghe has explained that the UNP needed to adopt a political strategy taking into consideration that the executive presidency will be abolished to pave the way for a government answerable to Parliament headed by a premier. Wickremesinghe was responding to Fernando's plea to declare recently appointed UNP Deputy Leader and MP Sajith Premadasa as the UNP's prime ministerial candidate in the run-up to the next presidential election.
Addressing a meeting of Kolonnawa bala mandalaya last Saturday, Fernando declared that the success of Wickremesinghe's presidential election candidature would largely depend on Premadasa spearheading the campaign as the prospective prime minister.
Well informed sources told The Island that Wickremesinghe, who had held the premiership twice, briefly, had emphasized that Deputy Leader Premadasa could play a pivotal role in the campaign, along with other young UNP parliamentarians. Responding to a query, a party official said that former MP Fernando had pledged to throw his weight behind the project to do away with the executive presidency.
Wickremesinghe also reminded Fernando that the party was in the process of organizing a big protest in Colombo on October 24 to coincide with President Rajapaksa presenting budget 2015.
The UNP leadership has directed all electoral organisers to ensure maximum participation of supporters.
(Courtesy: The Island)