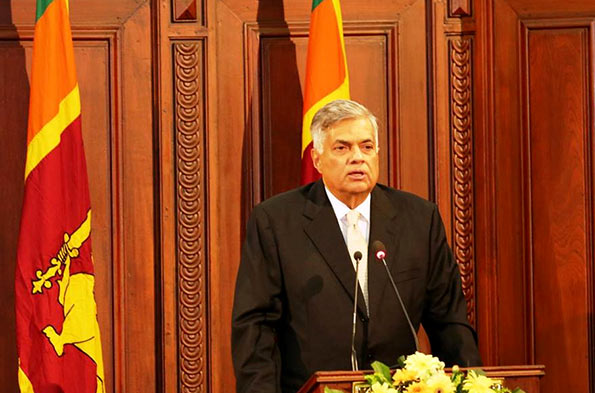 The historic National Government formulated with the joining of the country's two main political parties is capable of finding solutions to the issues faced by Sri Lanka at national and international level, said Prime Minister Ranil Wickremesinghe yesterday.
Prime Minister Wickremesinghe said that this is a historic day in Sri Lankan politics as a new political culture has been introduced to the country with the joining of the two main parties to serve the nation.
He made these observations at the swearing – in ceremony of new Cabinet of Ministers at the Presidential Secretariat in Colombo yesterday.
He added that President Maithripala Sirisena invited all to formulate a long lasting national policy for the country. He added due to this reason it is the responsibility of the government to formulate a policy for 10 to 15 years.
The Prime Minister added that National Governments had been established in the UK on two occasions during World War 1 and World War 2. He added that Germany too had a National Government with the joining of the two main political parties.
He added these national governments were formulated to find solutions for the issues faced by the country.
The Prime Minister added that if this national government which has been formulated for two years is a success, it will help build a more united country and a strong economy.
He said the government could then decide on the government's future programme in another two years.
(Daily News)