Navy assists the routine work of the Port of Hambantota
Posted by Editor on December 14, 2016 - 11:29 am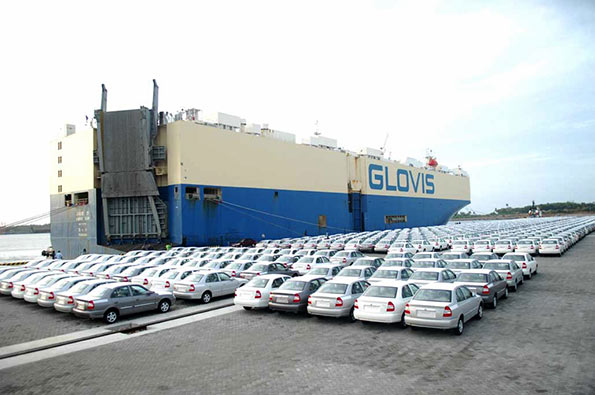 Naval personnel on Tuesday (13th Dec.) rendered assistance to load 1,086 cars and jeeps onboard a South Korean Vehicles Carrier, 'Glovis Phoenix', which arrived at the outer harbor of Hambantota on 11th December.
Sri Lanka Navy had to be involved with the proceedings of the harbor due to the protest campaign being staged by the Hambantota port employees since 7th December hampering the routine work of the Port. The Sri Lanka Navy also got the tense situation which erupted on 10th December under control restoring back the security of the harbour and establishing normalcy.
Further, naval personnel made an extensive effort to rectify the damages caused on the generators, power supply system and cleared all the obstacles affected to equipment and machinery by these saboteurs. The swift involvement of the Sri Lanka Navy helped reduce the potential losses that would have been suffered by the Sri Lankan Government due to non-operations of the harbour as a result of the sabotage carried out by port employees.
The ship is scheduled to leave the Port of Hambantota for its next port of call in Durban, South Africa, having the vehicles loaded expeditiously by today (14th Dec.).
(Government News Portal)
Latest Headlines in Sri Lanka