Navy to look into Yoshitha after financial probe is over
Posted by Editor on July 1, 2016 - 11:46 am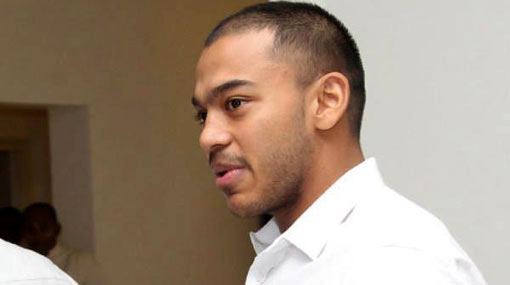 Lieutenant Yoshitha Rajapaksa was under investigation for financial crimes and therefore other allegations allegedly done as a Naval Officer would be investigated by the Sri Lanka Navy, after the conclusion of the civil case on financial crimes, Navy Spokesman Captain Alevi Akram said.
Captain Akram responding to a question raised by a journalist as to why the Sri Lanka Navy treats Lt. Rajapaksa and Lt. Commander K.C Welagedara differently, he said there was no discrimination whatsoever and added that Sri Lanka Navy was awaiting the ruling from President Maithripala Sirisena as the Commander in Chief on the appeal made to him by Lt. Commander Welagedara against his punishment.
He said comparatively, the offence committed by Lt. Commander Welagedara being an officer of a higher rank was serious than the offences committed by Lt. Rajapaksa, of a lower rank and that was why a Court Martial was held against Lt. Commander Welagedara.
He was demoted four ranks, which was a minor punishment, considering the magnitude of his offence, Captain Akram said.
"However, a final decision will be taken on him on the directive of President Sirisena as he has made an appeal to him on the punishments meted out to him by the Navy," he added.
Captain Akram said Lt. Commander Welagedara, while serving as the Chief Commanding Officer of the Naval and Maritime Academy in Trincomalee that trains 300 Naval Officers and 1,500 Navy men, had left his service station without prior approval of a higher authority.
(Source: Daily Mirror – By Sandun A Jayasekera)
Latest Headlines in Sri Lanka