Negomb – Colombo Private Bus protest
Posted by Editor on December 9, 2014 - 1:36 pm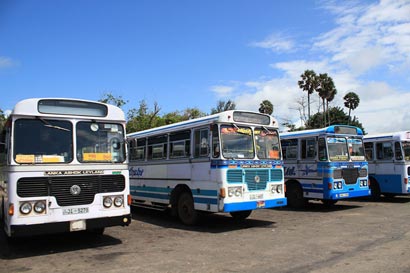 Bus drivers and conductors attached to Private bus service in route number 240 from Negombo-Colombo staged a protest today regarding their grievences.
"Buses outside from Negombo and Colombo are in service using Katunayake – Colombo Expressway. Our business has collapsed since they are taking our passengers. We need immediate attention of the authorities on this regard. Our intention is not to change the system, or the government, but to protect ourselves, occupation and families".
Protesters further added, "Journalists are also responsible for the current crisis of employees attached to private bus service. They are bias when reporting of the fault done by CTB bus service, but they emphasize our faults." Protesters added.
(Ceylon Today)
Latest Headlines in Sri Lanka