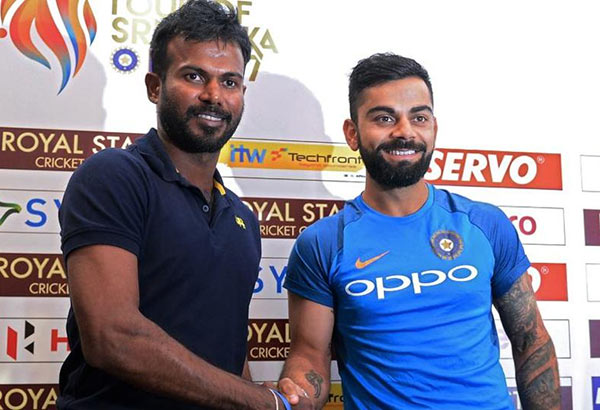 Top-ranked India will not take Sri Lanka lightly despite the home team's recent indifferent form as well as controversies over fitness and ethics, captain Virat Kohli said on Thursday.
Sri Lanka, languishing at the seventh position in Test rankings, survived a scare this week to win a one-off Test against Zimbabwe but not before going down to the minnows in the preceding one-day series.
They have also been criticised in recent days by the country's sports minister for being overweight and unfit.And on Wednesday, the team found itself in a fresh controversy after the minister said he supported an investigation into the country's controversial 2011 World Cup loss against India, amid fresh allegations of match fixing.
Kohli, the firebrand Indian skipper, nevertheless said he respected the opposition and would not take them for granted."It is never easy playing Sri Lanka in Sri Lanka," Kohli said after the team arrived in Colombo for their first full series against their South Asian neighbour in eight years.
The sides will play three Tests, five One-day Internationals and one T20 in what is their first series involving all three formats of the game since 2009.India have fond memories from their last visit in 2015 which saw them win 2-1, setting in motion a Test match winning spree that saw them clinch victories against New Zealand, England, Bangladesh and Australia.
Kohli said the Galle Test which India lost by 63 runs proved to be the turning point in the team's fortunes."After losing that Test in Galle, it was quite a dent mentally," Kohli told reporters. "But how the team came together (after that) was iconic.
"I still believe and everyone in the team believes and knows that this (Sri Lanka) is where it all started for us."Sri Lanka's Upul Tharanga, who is the skipper for the shorter versions of the game, said he was hopeful the team will pull through despite recent setbacks.
(AFP)