Present Government gave a proper meaning to free health service – President
Posted by Editor on July 21, 2017 - 3:34 pm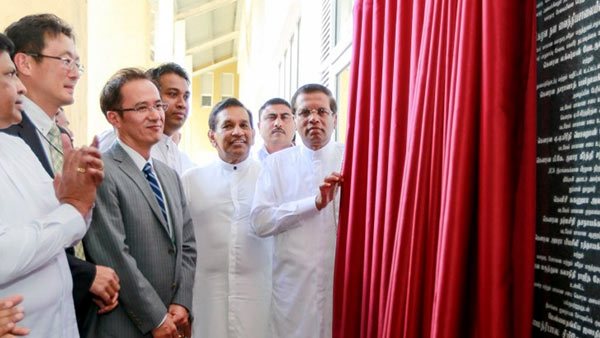 President Maithripala Sirisena says the present Government gave a proper meaning to the free health service by providing all the facilities in the health service free of charge.
The President made these remarks participating in a ceremony to vest the developed Galgamuwa Base Hospital with the public yesterday (20th July).
The Galgamuwa Base Hospital was developed as a state-of-the-art hospital spending Rs. 900 million. The Project was funded by the Government of Sri Lanka and the Japanese International Aid Agency, JICA. The development works of this hospital commenced when the President was the Minister of Health in 2013.
This Hospital has state-of-the-art facilities including an Out Patient Department, Accident and Emergency Department, Intensive Care Unit, Mother and Child Care Unit, Children's Ward, Surgical Ward, Gynecology Unit, Labour Rooms, Neonatal Intensive Care Unit and Blood Bank.
Additionally, modern medical equipment with high technology have been provided spending Rs.201 million and Rs.20 million was spent for the new water supply system of the hospital.
Addressing the gathering the President further said that he would never betray the trust placed in him by the people on 8th January 2015 and he will commit to make the motherland a great country in the world.
Even though due to uncontrollable natural disasters had a huge impact on the production process of the country, the Government is taking steps to minimize the impact of it on the people and to provide reliefs to the public.
Though some anti-government groups, attempt to point out the price hike of goods due to the decline of paddy and vegetable productions as a result of the bad weather conditions prevailed in the country, as a political issue, situations like these are not only limited to this era, the President said.
President Sirisena said that the Government is committed to strengthen the free health service, and to provide its benefits to the public. He also pointed out the importance of the assistance of the people for the programs carried out by the Government to curb the dengue menace.
After opening the hospital, the President made an inspection tour of the hospital and visited the Children's Ward and presented gifts for the children at the Ward.
The President also declared the developed Galgamuwa Base Hospital as a hospital which is dedicated to the prevention of drug abuse.
During this event, the President opened the electronic health information system and he also registered the first patient admitted to the hospital.
(Government News Portal)
Latest Headlines in Sri Lanka