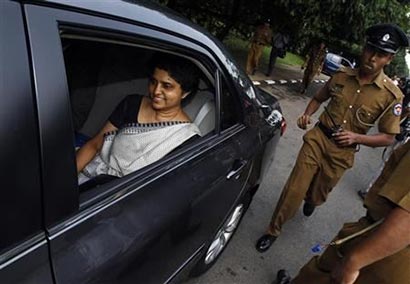 Two cases filed against former Chief Justice Dr. Shirani Bandaranayake and her husband were yesterday fixed for January 21 by Colombo Chief Magistrate, to seek the opinion of newly elected Bribery Commission to decide whether it proceeds with the cases or not.
The Commission to Investigate into Allegations of Bribery or Corruption had filed a case against former Chief Justice Dr. Bandaranayake over non-declaration of assets during 2010, 2011 and 2012, at a time when she was holding the post of Chief Justice.
At the same time, Bribery Commission had filed another case against her husband, former National Savings Bank (NSB) Chairman Pradeep Kariyawasam, accusing him of causing a monetary loss to the government by unlawful purchase of shares of The Finance Company.
When the two cases came up before Chief Magistrate Gihan Pilapitiya, Senior State Counsel Dilan Ratnayake appearing for the Attorney General sought further time to seek the opinion of newly appointed Bribery Commission over the objections raised by the defence.
The defence had filed written submissions to the Bribery Commission maintaining that the allegations levelled against former CJ and her husband were false and baseless and thereby steps be taken not to proceed with the cases. President's Counsel Nalin Ladduwahetty and senior counsel Saliya Peiris appeared for the defence.
(Daily News)