New form of diplomatic service required – President
Posted by Editor on June 5, 2011 - 7:50 am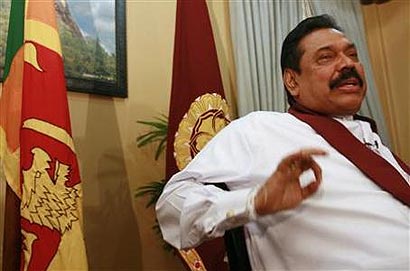 President Mahinda Rajapaksa stressed the importance of having a new form of diplomatic service instead of the traditional diplomatic service.
"Today we need a new form of Diplomatic Service instead of the existing traditional diplomatic service; a diplomatic service that is capable of performing their duties in assisting the economic development process of the country," President said at a ceremony held at Temple Trees recently, to hand over credentials to 17 newly-appointed Ambassadors and High Commissioners.
He also said that officers of the diplomatic service should be well knowledgeable of the prevailing state of the country and be able to identify the things that the country needs from the host countries.
Diplomats should strengthen the relationships with various influential social groups of the relevant countries and eliminate the wrong impressions and attitudes that have been created overseas by the groups linked with the LTTE said the President.  He further added that they should strive to convince about the reality of the prevailing situations in our country and thereby secure the honour of the country,
Source: Government News Portal
Latest Headlines in Sri Lanka