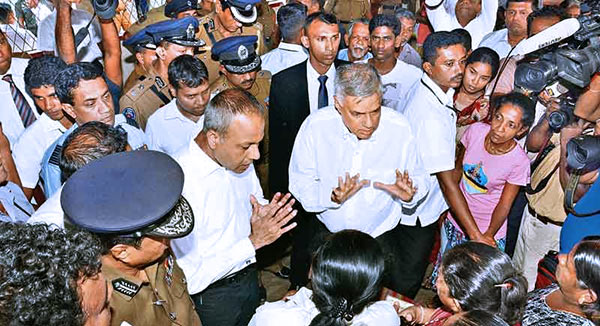 Steps are underway to provide new houses to the people affected by the Meethotamulla Garbage dump tragedy by May, June and July this year, Prime Minister Ranil Wickremesinghe said. The houses to be allotted to them have already been identified in association with the UDA. Until then the affected people would be provided temporary accommodation and all other required facilities.
Prime Minister Ranil Wickremesinghe said this when he visited the Rahula Vidyalaya premises in Meethotamulla to look into the welfare of the affected people yesterday morning.
The Prime Minister who said that valuation was now underway to assess the damage caused by this tragedy said he hoped to obtain the final valuation report by Friday. The Prime Minister who emphasised the need for all institutions to join hands and make a collective endeavour towards the relief effort added that two teams would arrive from Japan and the World Bank to assist the process.
The people present on the occasion briefed the Prime Minister about their problems and the PM said all affected families would be provided with alternative houses and those who opted to find homes on their own would be given a special allowance.
He said until then they would be provided temporary accommodation in a PMB building. The Premier said there was a possibility to provide houses from the Angulana area. The government had taken necessary measures to provide all infrastructure facilities to the affected people until they are given new houses.
Law and Order and Southern Development Minister Sagala Ratnayake and IGP Pujith Jayasundera were also present.
(Source: Daily News – By Shiromi Abayasinghe and Rakshana Sriyantha)