New Oluvil Harbour vested in the public
Posted by Editor on September 2, 2013 - 8:37 am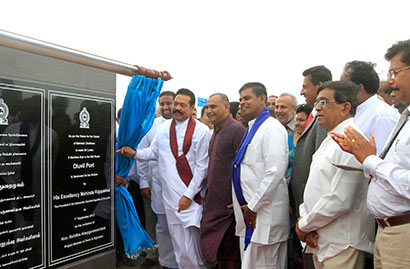 – by Janaka Alahapperuma – Pix by: Nalin Hewapathirana

The newly constructed Oluvil commercial port and fisheries harbour together with the ice manufacturing plant constructed in the Eastern Province with aid from Denmark have been vested in the public by President Mahinda Rajapaksa this afternoon on 01 September. Sri Lankan Government in its plans to give momentum to its economic development under the five hub concept had decided to develop fisheries harbours and ports which would definitely be a benefit to the development activities in the Eastern part of the country. However under the "Nagenahira Navodaya (Reawakening of the East)", priority was given to the Oluvil Harbour Development project focusing the economic and infrastructure development in the region.
The commercial port comprises 330 meters of quay with a water depth of 8 meters while the fishing port comprises 200 meters of quay with a water depth of 3 meters. The breakwater of the two harbors is 1475 meters long. New jetty of the Fishing Port is 260 meters and the jetty of the Commercial Port is 390 meters.  The Fishing Harbor will provide the services for 500 boats at one time and could handle vessels with capacity of 50,000 metric tons.  The fisheries harbour consists of ice plants, cold room facilities, storage facilities for fishing equipments and many more. Therefore with these development projects, new Oluvil Port will be the main fishing harbor in the Eastern coast. 
Development work of the Oluvil Harbour commenced on the 1st of July 2008 at a cost of 7,000 million rupees. The Financial assistance for the project has been given by the government of Denmark. The Sri Lanka Ports Authority stated this interest free loan is scheduled to be paid back within 10 years and the income of these two commercial harbors will be utilized to pay back the loan. President Rajapaksa said that instructions have given to the Sri Lanka Ports Authority to transform Sri Lanka into a potential maritime and logistics hub in the South Asian region under the "Mahinda Chinthana" manifesto forming excellent relationships with the giants in the emerging economic world. This new commercial harbour with shore facilities also will also cater to general cargo vessels that will supply the current needs of the region, including coastal passenger transport, with provision for expansion in the future.
Meanwhile President Mahinda Rajapaksa inspected a number of projects in the area and vested many development projects in the public.
Senior Minister P.Dayaratne, Minister Rauff Hakeem, Deputy Ministers Rohitha Abeygunawardena, A.L.M.Hisbullah, Governour of the Eastern Province, Mohan Wijewickrama, Chief Minister Abdul Najeed Majeed, parliamentarians Sarath Weerasekera, Chief of Staff to the President, Gamini Senarath and Chairman of the SLPA Dr Priyath Bandu Wickrama were present at the ceremony.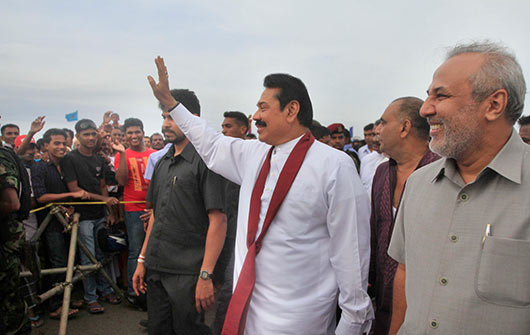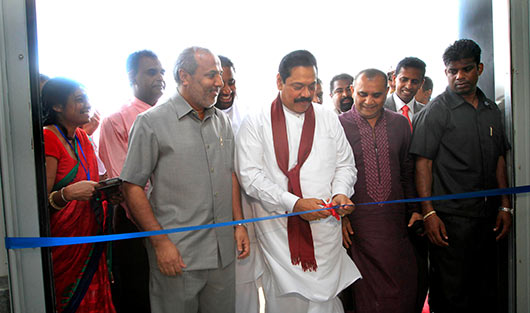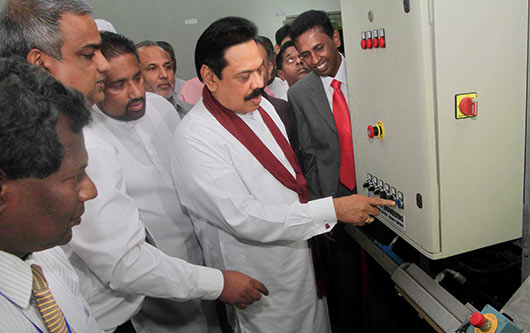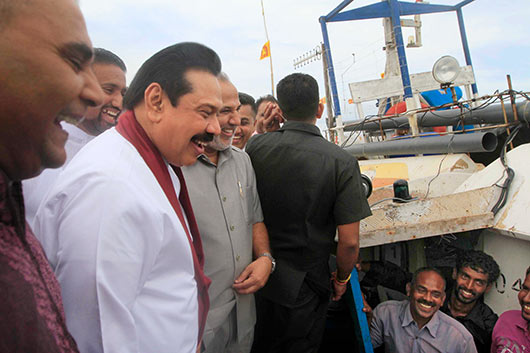 Latest Headlines in Sri Lanka