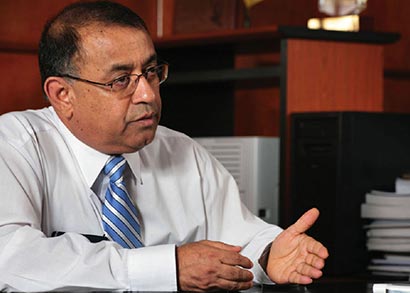 Secretary to the Ministry of Finance Dr. P.B.Jayasundera refuting malicious stories being published by certain newspapers that the People Bank is to be privatized, said that fears of privatisation of People's Bank or for that matter any other state enterprise is unwarranted.
In a statement issued in this connection Dr. Jayasundera has explained that the People's Bank was established in 1961 by the People's Bank Act No. 29 to develop and assist the co-operative movement of Sri Lanka, rural banking, agriculture and industry and to carry on banking and pawn broking.
The Act of incorporation that was passed in 1961 states that the Authorized Share Capital of the People's Bank is Rs. 1,000 million divided in to 20 million shares of Rs. 50 each. This amount is inadequate in the current context for the bank to further expand.
He has pointed out that over the years, the People's Bank has expanded its branch network throughout the country and pioneered the expansion of banking activities in rural townships as well as metropolitan cities maintaining public confidence in a highly competitive banking environment.
Dr. Jayasundera states it has since become the second largest commercial bank in Sri Lanka in terms of its asset base has obtained AA+ (lka) with a stable outlook. Due to such expansion of the People's Bank, it has become imperative to increase its capital base, to strengthen the Bank's financial stability and further expand its activities in the economy.
He says that giidelines issued by the Central Bank of Sri Lanka also required all Commercial Banks to increase their capital up to minimum of Rs. 2.5 billion of which Sri Lankan commercial banks have already commenced the process.
The 'Mahinda Chinthana – Vision for the Future' policy framework of the government has in no uncertain terms assured that privatization of state enterprises will not be pursued by this government and has firmly kept its promise. As announced by the President in the 2013 Budget Speech, the government is rapidly moving in the direction of strengthening state enterprises through recapitalisation and other policy initiatives to expand asset base.
Investments in ports, airports, water supply and electricity have increased the asset base of those state enterprises to provide supporting environment for economic development.
Dr. Jayasundera points out State banks too need similar expansion to improve banking and financial facilities in the country, and no amendments other than the income increased in the authorised capital have been proposed.
The Treasury Secretary adds that the People's Bank is fully government owned commercial bank and this position is a strategic policy objective of the government. He says that hence, fears of privatisation of People's Bank or to that matter any other state enterprise is unwarranted.
Dr. Jayasundera states that as such, the government wishes to reaffirm to the public that the proposed capitalisation of People's Bank by the government is designed to strengthen the bank's financial stability, while also complining with the regulatory requirements as per the Central Bank's guidelines on minimum capital equipment.(niz)
(Source: Government News Portal)