Navi Pillay visits Sri Lanka – what's next on agenda
Posted by Editor on September 2, 2013 - 7:19 pm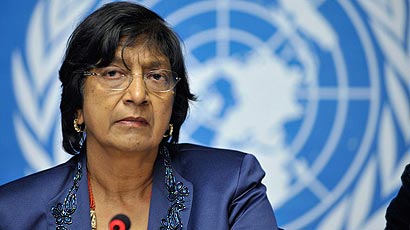 – by Shenali D Waduge –

Navi Pillay must thank her lucky stars that those who garlanded her did not do what they did to Rajiv Gandhi inspite of both he and mother helping LTTE rise to power. That was because LTTE was annihilated by Sri Lanka's armed forces and the woman who garlanded her was a former LTTE cadre successfully rehabilitated. Probably that prompted her to tell the Tamil Diaspora holding foreign passports but calling for Eelam in Sri Lanka not to 'honor the LTTE' and that there was 'no place for the glorification of such a ruthless organization'. It would have been nicer had Navi Pillay referred to LTTE as a 'ruthless organization' before its demise and while Prabakaran was at his height of terror instead of after its defeat given that she had numerous occasions to say so but chose not to. Why did Ms. Pillay never take on the LTTE before its demise? Why does she continue to be silent on the role of the LTTE fronts some of whom canvass and lobby in the halls of Geneva disguised as humanitarian angels while others run charities that have raised funds for terror. Simply saying LTTE was a 'murderous organization' after their murdering days are over is not acceptable.
If Ms. Pillay thinks that by claiming she is a proud 'South African' she can absolve herself from the allegation that there is a conflict of interest in her being an ethnic Tamil, genetically and emotionally linked for that was why she had attempted to throw flowers in memory of the dead at the Nandikadal Lagoon – we are not so naïve not to equate memory of the dead in Nandikadal as remembering the dead LTTE and Prabakaran himself. For having started her tour in Sri Lanka she could have easily placed flowers throughout Colombo starting with the Central Bank where hundreds of people died because of the LTTE and thousands more are without eyes. Why did she chose ONLY Nandikadal lagoon to throw flowers?
We are not calling Ms. Pillay a 'Tamil Tigress in the UN' but we are strongly of the opinion that Ms. Pillay being a Tamil needs to realize that the scale of impartiality is heavily imbalanced when she is an ethnic Tamil even though she is a proud 'South African' – let us remind Ms. Pillay that there are so many proud Tamil Germans, Tamil Canadians, Tamil British, Tamil Americans and Tamil Australians who had been calling for an Eelam and raising funds for the LTTE and their crime machine and still continue to do so within an other illegal nexus aligned to numerous other terrorist movements. Therefore, Ms. Pillay can be a proud South African but she should know that even judges withdraw from cases when they are aware of the conflict especially when others have voiced concerns about the conflict. The call to withdraw is really Ms. Pillays because any righteous thinking and behaving judge would make the call and not evade the issue by portraying the victim. Ms. Pillay must know that declaring she is a 'proud South African' is itself inappropriate because once in the UN system UN staff ceases to hold any attachments to nation, ethnicity, religion or creed… by saying she is a proud South African she has openly disqualified herself.
We remain a little perturbed as to what 'credible' investigation Ms. Pillay is seeking. Is it investigations that will satisfy the agenda of people trying to divide the country, should the process be aligned to those who want to devolve Sri Lanka? Exactly what type of investigation is this lady seeking Sri Lanka to carry out? Besides what puzzles all of us is that having spent 7 days in Sri Lanka why she chose not to directly demand answers to the supposed 40,000 to 125,000 dead, allegations which have become a core argument against Sri Lanka. Is it possible that she knew that such an allegation would be met with demands for direct proof of allegation by the defense secretary that she chose to leave the allegation in limbo so that it could be loosely used against the Government at any time? Sometimes it serves a diplomatic advantage to keep allegations at allegation level as it provides means to scare and force compromise by the Government.
Given that Ms. Pillay is on record for at least now calling the LTTE a 'ruthless organization' and claiming that 'there is no place for its glorification' we hope that she will ensure that she takes action against the LTTE front organizations. If Ms. Pillay can take the first step by calling the LTTE as 'murderous' and an 'organization' the latter which we would agree she next needs to follow through by investigating LTTE atrocities including all LTTE fronts presently attempting to continue LTTE terror and planning to relaunch in Tamil Nadu, India and if any office is to be opened it is in Tamil Nadu for that is where the root of the Eelam struggle finds itself and Ms. Pillay being a proud 'South African BUT Tamil should know that too well.
Ms. Pillay also claims the people were still suffering and how true for we are still waiting for Ms. Pillay and her coterie to investigate Diaspora role and LTTE front organizations for all the crimes committed by the LTTE on Sinhalese, Muslims and even Tamils. This is the suffering that continues to plague the people. She should also wonder how the people would have continued to suffer far more than the suffering she is implying if as the West had insisted the military stopped the military offensive and allowed Prabakaran to escape. The North and East would have continued to be living in the stone age without electricity had the LTTE continued to prevail according to the wishes of the West and India.  If Ms. Pillay wants to do justice for the people whose 'wounds ill not heal and reconciliation will not happen without respect for those who grieve' then surely she has to take action against the present LTTE fronts inclusive of the TNA for their role in encouraging and participating in terror including some members of civil society who had also played direct and indirect roles. Only a thorough investigation would reveal their crimes.
Can Ms. Pillay please explain how with all the development that her naked eye was witness to what signs she saw to depict the country was heading in an 'increasingly authoritarian direction'? We demand to know in point form what aspects makes her belief Sri Lanka is taking the authoritarian path. Please don't let us presume that this statement is just part of the jigsaw that is laid out before a R2P type resolution on Sri Lanka because we can now call the bluff and the clues are getting too easy to predict and the actors and actresses are giving themselves away too early. Thankfully the British public have been all the wiser not to allow Cameron to do a Blair on Syria.
Ms. Pillay has also called for the Right to Information Act, Independent Commissions to oversee key Government institutions and devolution of power. May we remind Ms. Pillay that Sri Lanka cannot be led according to her wishes or dictates and she should know well what democracy means. The people have no desire for devolution – what they do desire is the complete abolition of the provincial council system for it is just a waste of money and totally devoid of any service mechanism for the people. We are not benefitting from the provincial system because it is not an indigenous one – what worked for us was the district council system so why does Ms. Pillay not speak about what worked for Sri Lanka and returning to that instead implementing something foreign which we know has failed since its launch in 1989 by India?
If her observations on Sri Lanka restricts to the lobbying by the 8 civil society and human rights groups she met up with then we are not in the least surprised by the concluding statements which continuously echo them.
Of course the Government would have taken stringent care to ensure Ms Pillay's visit was without anything she could use to make a noise about and the fact that she admitted she could 'go anywhere and see anything' she wished to see shows clearly that the Government did not hide anything from her. Of course when anyone wants to see bad there are always avenues to see negatives.
It is surprising to note that Ms. Pillay would allocate 7 days of her busy schedule to Sri Lanka to visit a country now without terror.  Crimes happen in every part of the world but Sri Lanka was a country that people were scared to leave homes because they were never sure of their return thanks to LTTE suicide bombers but all that ended in May 2009. However, what we are puzzled about is that Ms. Pillay never reserved 7 days for the people of Iraq, the people of Afghanistan and never has she dedicated so much time to the innocent people of these countries except for Sri Lanka. Is there a particular reason why? The important aspect of not visiting countries like Iraq, Afghanistan, Kosovo, Libya and the like is because these nations all share something common – they were invaded by foreign forces after manipulating the world and fooling them with false flag events and allegations and UN simply watched international law blatantly violated while these foreign forces militarily invaded these nations and bombed sites and people into oblivion. What about flowers for them, Ms. Pillai, were these not international violations and what has Ms. Pillay said about these crimes repeatedly taking place and while US and Allies were about to strike on Syria if not for Russia's threat to bomb Saudi Arabia if US did so, not a word did Ms. Pillay issue from Sri Lanka in her role as UNHRC head. We find this extremely odd because had US and Allies struck missiles upon Syria it would have led to an all out war and possibly the start of a World War 3 – so why did Ms Pillay remain silent?
As for meeting everyone we are interested to know why Ms. Pillay would include meeting up with a TNA politician cum Mahavir widow when there were hundreds and thousands of other families she should have met including spouses of still missing soldiers! We hope that Ms. Pillay will admit when she addresses the UN Human Rights Council that she made room for a former LTTE widow but not victims of LTTE terror some of whom are now blinded and unable to make a living simply because LTTE was a pawn for them.
We note with thanks that she has acknowledged the impressive development across the north and east within a short span of just 4 years – where the people of these areas are now beneficiaries of basic infrastructure and facilities that the LTTE had denied them. Yes these are physical reconstruction and for dignity to return we need to have the perpetrators taken to task and that Ms. Pillay starts by collaring the LTTE fronts and the TNA for their terror crimes as well as many in Government and Opposition who had aligned with the LTTE for money and other remunerations – all of these people now need to be named and they must all be punished for their crimes.
Her observations of the military presence obviously is an echo of the concerns placed by members of the TNA and likeminded and not the ordinary people of the North who have at no stage shown their dislike for the military or the presence and military presence is development is part and parcel of how the US armed corps functions so it is nothing exclusive to Sri Lanka. This is why she was careful to say that demilitarization was nothing that could be done over night. Ms.Pillay should know better than to confine her closing arguments to what she had 'heard' because we would immediately equate all that she says to what she had 'heard' without proof and for a UNHRC head to simply use her office to make statements on what she has 'heard' is simply not done. If she is concerned about private land acquisition she needs to question the UNF Government and present UNP leader as well as present foreign minister who was then part of the UNF Government as to how Mahavir families obtained Tamil lands and adjusted original deeds to include their names!
Now that Ms. Pillay brought up the subject of sexual abuse and the 'We will teach you a lesson' report prepared by the Human Rights Watch whose 140 page account gives just 175 cases over a 6 year period between 2006-2012 without corroborated evidence and classified as 'widespread' sexual abuse. Yet the former GA herself a Tamil admitted that much of the sexual abuse prevalent takes place not by army soldiers but by Tamils upon Tamils and committed by family members themselves. It is totally out of context for Ms. Pillay to plug this statement into her concluding statement to imply the army was to blame for sexual abuse.
We are also surprised that Ms. Pillay chose to keep silent about the child soldiers, the reintegrated former LTTE cadres. These were all key areas of concern throughout the post-war development. Similarly, it has not surprised us that having nothing to really complain about post-conflict Ms. Pillay has just a handful of issues that have now become the only issues laid before every discussion and this certainly directs the allegations to the groups she is in close association with.
We were well prepared for the suggestion that Ms Pillay would put forward to the Sri Lankan Government in the form of the witness protection legislation which will in a later discussion reveal the futility and showcase how the office of the UNHRC through the UN is subtly making attempts to hold a country's law and order system under its wing.
We certainly take umbrage with Ms. Pillay and continue to question her conflict of interest clearly depicted in the manner she raised objection to the Buddhist flag being hoisted at Independence Square – does Ms. Pillay not know that Buddhism is given the foremost place in the Constitution and that the Sinhalese are the indigenous race in Sri Lanka and Sinhalese Buddhists are the predominate majority? How would her remarks on the Buddhist flag relate to hate speech!
It is also surprising that Ms. Pillay uses a handful of isolated incidents to generalize that there is harassment and intimidation of human rights defenders in Sri Lanka. Would Ms. Pillay say that there is harassment of Buddhists in India simply because 2 Buddhist monks were attacked in India? Or when a black is shot and killed in the US does it imply that all blacks are suffering harassment in the US and when journalists disappear and find themselves enjoying 'foreign schols' and given employment we just have to wonder the modus operandi behind these 'disappearances'. But certainly we would welcome a Right to Information Act for it is opportune for the public to file cases against those wrong doers.
Yet, while Ms. Pillay takes offense for citing her lack of impartiality and the obvious conflict of interest that prevails leading to an ultra vires in conducting any further investigations on any matters related to Sri Lanka, we shall separately list her bias.
Ms. Pillay came to see the developments of the post-war and under that category she had absolutely nothing to find fault with Sri Lanka and that is what we need to take note of – all other areas were simply plugged in to show a different agenda at play.
Latest Headlines in Sri Lanka