New power tariffs worry hospitality industrialists
Posted by Editor on December 8, 2010 - 8:44 am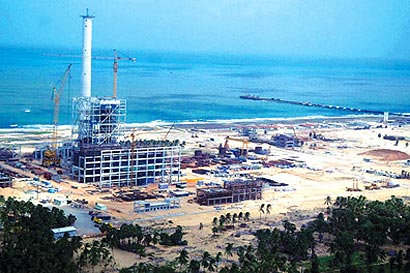 A section of the hospitality industry is concerned over the proposed increase in the electricity tariffs targeting the industry from next month. President of the Tourist Hotels Association of Sri Lanka Anura Lokuhetty yesterday told The Island that the new electricity tariffs would cause an increase of 60-70 per cent. The official said it would have an adverse impact on the industry at a time the government was making a determined bid to attract more tourists.
Lokuhetty said that the hospitality industry had been singled out and others did no have to adhere to the new electricity structure. The tariff would increase from Rs. 9.50 to Rs. 19.50 per unit and the Maximum Demand Rate would also increase from Rs. 675 – Rs. 1,000 with the introduction of the new tariff structure, he pointed out.
However, Lokuhetty said that the hoteliers would be making an appeal to the Public Utility Commission to re-consider the decision.
"Most hotels, particularly the new ones that are being constructed have already prepared their feasibility reports and this kind of move will upset their plans and will also make the investors think twice or move to other countries," he said.
The hospitality industry in this country needed breather as the tourism industry was making a come back after a 30-year-old war, he said. The government should give more concessions and encourage the construction of more hotels to meet the increasing demand for rooms, the THASL President said.
Lokuhetty however admitted that the government had from the last budget provided a number of tax concessions, which would benefit the industry.
"If we are to meet the President's target of 2.5 million tourist arrivals in 2016, the industry should be geared for the task and we should woo more investors as we need more hotel rooms," he added.
"The 'Visit Sri Lanka Year' will be in 2011 and the industry has a golden opportunity of wooing more tourists to the country from different parts of the world and we must make maximum use of this opportunity," Lokuhetty said.
Top brand names such as Shangrilla and Sheraton deciding to venture into Sri Lanka augurs well for the burgeoning tourist industry in the country and if we are well focused we can achieve these targets," an optimistic Lokuhetty said.
President of the Association of Small and Medium Enterprises in Tourism, Siri De Silva said that the hospitality sector which accounted for over 1,500 rooms in the formal sector would be the worst hit if the new electricity tariff structure was introduced.
Source: The Island
Latest Headlines in Sri Lanka