A STRIKE NEEDED TO GAIN SALARY INCREMENTS, SAYS LAL KANTHA
Posted by Editor on December 8, 2010 - 8:49 am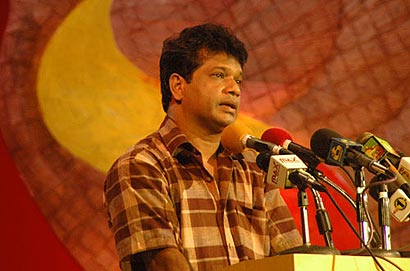 Chairman of the National Trade Union Center K. D. Lal Kantha has highlighted the need for a strike, in order to gain salary increase.
He echoed this sentiment while addressing the 14th annual convention of the all Ceylon Railway Employees' General Union.
"It is essential to launch a strike in a bid to obtain a salary increase. The number of times is irrelevant. Give us a bit more time. This government is bankrupt. What is the income that this government has?
"The economic plan of this government is to earn money through gambling. They are trying to engage in gambling and have passed laws in this regard as well. What will happen thereafter? The members of the government are collecting commissions and are trying to develop the country's economy." said K. D. Lal Kantha.
Courtesy: News First
Latest Headlines in Sri Lanka