New Year celebrations put dozens in hospital
Posted by Editor on January 2, 2014 - 6:45 am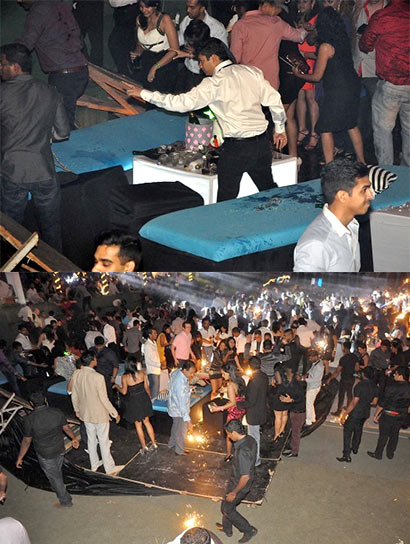 (Pix: Sunday Times)
Dozens of party-goers were hospitalized on Wednesday (1) after a stage collapsed at the five-star Colombo Hilton Hotel during New Year celebrations, the organizers said.
At least 30 people were hospitalized with fractures, cuts and burns following the collapse of the outdoor stage, hurling some 700 people to the floor a few feet below, sparking fire and smashing glasses, a spokesman said.
There was no immediate comment from the Hotel, but the Event Manager of Cantaloupe Playground, which had arranged what was billed as the 'Wonderland New Year's Eve,' apologized to the victims.
"We apologize for the incident, and we will pay the hospital bills of the injured guests," a spokesman for Cantaloupe Playground told AFP, asking not to be named.
"About 30 were hospitalized… We are refunding the ticket money."
Guests had paid U$100 each to join the party. Party-goer Nathashi Wijesundera, said she had helped some of the victims before being told that she herself had multiple burns on her legs.
"I ended up treating people in the car park and going with one person in the ambulance to a private hospital," Wijesundera said on her Facebook page, where she posted three photographs of the chaos.
One showed empty couches strewn on the ground after the crash while another showed a worker trying to clear broken glass. The third showed people still milling around after the collapse.
Most people suffered head injuries, cuts, bruises, burns, concussions and sprains, she said.
Another wounded reveller, Anisha Niyas, said the New Year's Eve was the 'worst night of my life.'
"There was blood and broken glass everywhere. I spent the first few minutes of 2014 on my hands and knees surrounded by glass and people crying in pain," she wrote on her Facebook page.
"The worst possible party I have been to," wrote another party-goer, Shenali Candappa.
(Courtesy: Ceylon Today)
Latest Headlines in Sri Lanka