NFF in deep crisis
Posted by Editor on December 12, 2017 - 7:43 am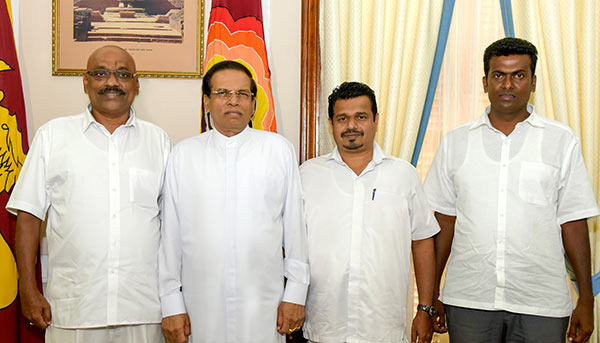 The National Freedom Front (NFF), led by Wimal Weerawansa MP yesterday plunged into deeper crisis with the party's Deputy Leader Weerakumara Dissanayake and NFF National Organiser Piyasiri Wijenayake joining the Sri Lanka Freedom Party (SLFP).
They were joined by NFF North Central Provincial Council member P. B. Kumara who too obtained SLFP membership from the President.
Dissanayake and Wijenayake, two leading politicians who helped Weerawansa form the NFF, obtained SLFP membership from President Maithripala Sirisena at the Presidential Secretariat yesterday morning.
Dissanayake and Wijenayake addressing the media later predicted that the Joint Opposition and the political party affiliated to it, the Sri Lanka Podujana Peramuna faces a mass exodus of members as some of the JO leaders were determined to divide the SLFP and the coalition UPFA. Although not directly alleging, the duo indicated that their former leader Weerawansa too could be one of them.
Dissanayake said, the three NFF members had decided to leave the party as they did not want a division within the SLFP or UPFA. He said President Sirisena was the most suited to lead the party and was fully prepared to back.
"A large number of JO members know that we are right. You wait and see there would be a mass exodus of JO members in the near future," he added. When questioned whether the three members will contest under the UPFA banner at the upcoming polls, Wijenayake said it was too early to say but added they may consider favourably if a request is made.
He said there were several leaders within the JO fold who do not want an amalgamation between the SLFP and JO as they believed it would negatively affect their selfish political aspirations.
Dissanayake addressing a gathering in Anuradhapura recently had indicated his decision whilst calling on the public to support the mandate of the SLFP. This new development ahead of the much anticipated Local Government polls comes just days after another member of the NFF Jayantha Wijesekara resigned from the NFF.
Wijesekera, a former member of the NFF and Janatha Vimukthi Peramuna, had decided to resign following the resignation of the party secretary Priyanjan Vitharana.
At a media briefing, Wijesekera cited that he had decided to quit the NFF following Vitharana's resignation.
He called on 'progressive politicians from the JVP and the NFF to join forces with President Maithripala Sirisena.'
National Freedom Front (NFF) National Organiser Piyasiri Wijenayake, fell out of favour with the leadership after he severely criticised Weerawansa over his statement on bombing Parliament.
(Source: Daily News – By Kamal Jayamanna)
Latest Headlines in Sri Lanka