NGOs can contribute to resettlement drive – Defence Spokesman
Posted by Editor on July 28, 2010 - 2:11 am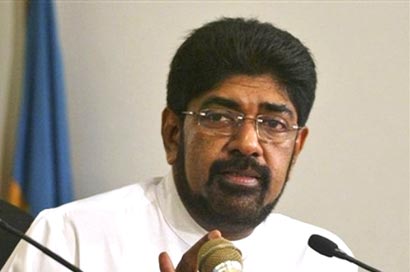 Mass Media and Communication Minister and Defence Spokesman Keheliya Rambukkwella yesterday stated that any public representative and Non Government Organization can visit the North and East and contribute to its ongoing resettlement drive and the development process.
The Minister addressing the media at the Media Center for National Security stated that the NGOs that wish to contribute in the development process and the resettlement process could go there but not those with ulterior motives that make statements harmful to the interests of the country.
There are packages introduced at the Resettlement Ministry to support the development process in the North and East and any NGO could select any of them and visit the area to expedite the process.
He further stated that there were restrictions imposed by the Government earlier in visiting these areas as many of the NGOs and persons were pessimistic and their objective was to make destructive comments on the Government's process and create chaos.
Referring to the allegations by the JVP who said the Government was not conducting the resettlement drive of the IDPs in North and East properly Minister Rambukwella stated that as a government they were happy with the progress of the resettlement process.
He also stated that no government in the world faced such a herculean task and the JVP was condemning it because it was running out of slogans.
Minister Rambukwella pointed out that 85 percent of the IDPs of 267 393 in the North and East were resettled within a year at a rate of 700 IDPs per day.
The rest 35,333 IDPs would be resettled immediately.
He said that according to the United Nations norms the security of the people should be guaranteed and there was a legal issue of resettling people in an area where 1.5 million land mines were strewn. Although Indian Government and other institutions offered to support us in de-mining the magnitude of the task was so heavy that the government had to spend Rs 860 million on the machines and the equipment used in the de-mining process.
Ninety five percent of the demining process is conducted by the Sri Lanka Army.
Still there is a 12 to 15 percent of mines to be cleared in Kilinochchi area.
He expressed his regret that the JVP which is aware of the real situation, was suppressing the truth.
Daily News
Latest Headlines in Sri Lanka