Nisha Biswal set to meet Tamil Diaspora groups
Posted by Editor on April 29, 2014 - 6:28 pm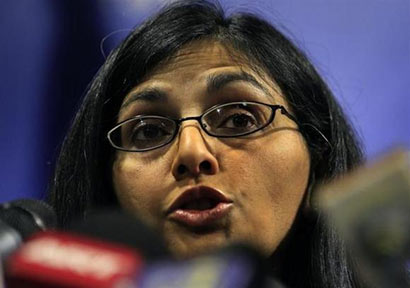 US State Department's Assistant Secretary for South and Central Asian Affairs, Nisha Biswal, is scheduled to meet Tamil Diaspora groups on Tuesday (April 29).
The meeting is scheduled to take place at the US Department of State and will be closed for media coverage.
The human rights situation in Sri Lanka is expected to be one of the main issued to be discussed during the meet.
Biswal visited Sri Lanka in January this year and held talks with the government, opposition and NGOs about the current situation in the country. She also visited the Jaffna peninsula and held talks with members of the Northern Provincial Council, the Governor and civil societies based in Jaffna.
Assistant Secretary Biswal is also scheduled to attend a reception in honor of Sri Lankan Ambassador to the U.S. Jaliya Wickramasuriya, in Washington, DC.
Wickramasuriya, Sri Lanka's Ambassador to USA from 2008 is expected to take over as the new High Commissioner designate to Canada.
Wickramasuriya will be replaced by Prasad Kariyawasam, who is Sri Lanka's High Commissioner to India.
(Ada Derana)
Latest Headlines in Sri Lanka