No faith in LLRC report: Sudarshini Fernandopulle
Posted by Editor on February 9, 2012 - 12:41 pm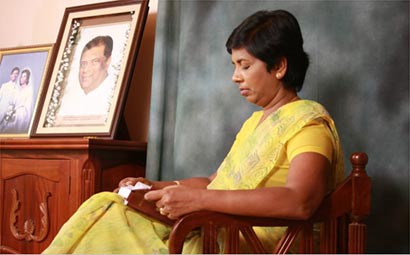 Dr. Sudarshini Fernandopulle, UPFA Gampaha District MP and widow of former Minister Jeyaraj Fernandopulle, yesterday charged that the Lessons Learnt and Reconciliation Commission (LLRC) had completely forgotten the victims of LTTE terrorism and that its report was not unbiased.
"I must specifically mention that I have no faith in the LLRC or its report. They never got our views though we were affected. They have forgotten the victims of LTTE terrorism and I suspect that they were catering to international pressure. So their report was not totally unbiased," she insisted.
Dr. Fernandopulle said that the international community too had totally forgotten the victims of LTTE terrorism. "They have forgotten the number of innocent people and political leaders who have been killed by the LTTE. Now they are trying to destabilise the country for their own benefit," she said.
"As a victim of terrorism, I am depressed by the attitude of the international community," the ruling party MP stated.
Dr. Fernandopulle opined that when the LTTE was wiped out, those engaged in the illicit arms trade were at a loss and alleged that these groups with vested interests are behind the moves to destabilise the country.
She observed that people in the North are now in a position to lead a productive and happy life, and the international community should support, not hinder reconciliation in Sri Lanka.
"I urge the international community to look at the situation with a balanced frame of mind and not to listen to those supporting the LTTE. Go to the North and to the South and listen to what people have to say. People want to put the dark memories of the LTTE behind them and move on with their lives," she added.
Courtesy: DM Online
Latest Headlines in Sri Lanka