No language-based conflict should take place in the country – President
Posted by Editor on October 25, 2016 - 12:52 pm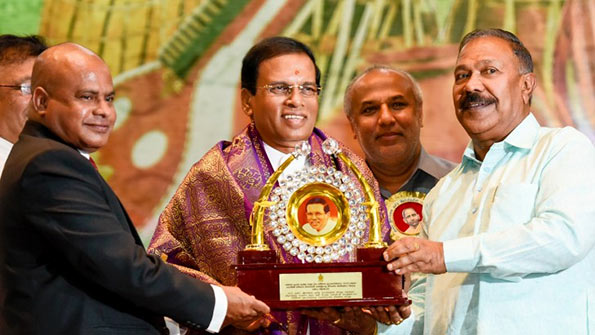 President Maithripala Sirisena says any conflict should not take place in the country based on the languages spoken by the different communities.
The President points out in the history of the world as well as ours, we have experienced catastrophic circumstances arose among the different communities based on languages. He said that it is an unfortunate occurrences and added that the language should be the voice of the humankind and it should not create divisions among general public as well as should not leave room for unequal distribution of resources.
He made these remarks addressing the All Ceylon Tamil Language Day Awards ceremony held at the Dharmaraja College in Kandy, Sunday (23).
It is significant that the President participated in this Awards Ceremony, marking the first-ever participation of a State Leader in this Awards Ceremony.
"It is the responsibility of the government to create an environment conducive to carry out the administrative works of the public based on their preferred languages," the President said.
It is also the responsibility of the government to provide facilities to any  community to receive their education in their mother tongue, he said adding that it is also an accepted international law.
The President stressed that physical and human resources will be improved to impart Sinhala language to Tamil and Muslim students and Tamil language to Sinhala students.
The President presented awards to the winning students in the all island competitions at the event.
A special memento was presented to the President, by the Kandy Dharmaraja Scout Group who conduct an expedition in the Himalayas, as a tribute to the President for providing support for them in this regard.
Ministers and MPs, including Lakshman Kiriella, Rauf Hakeem, State Minister of Education, V. Radhakrishnan, Central Province Chief Minister Sarath Ekanayake, Secretary to the Ministry of Education, Sunil Hettiarachchi and many others participated in this event.
(President's Media)
Latest Headlines in Sri Lanka