FR against vandalising Buddha status re-fixed for support
Posted by Editor on October 25, 2016 - 11:13 am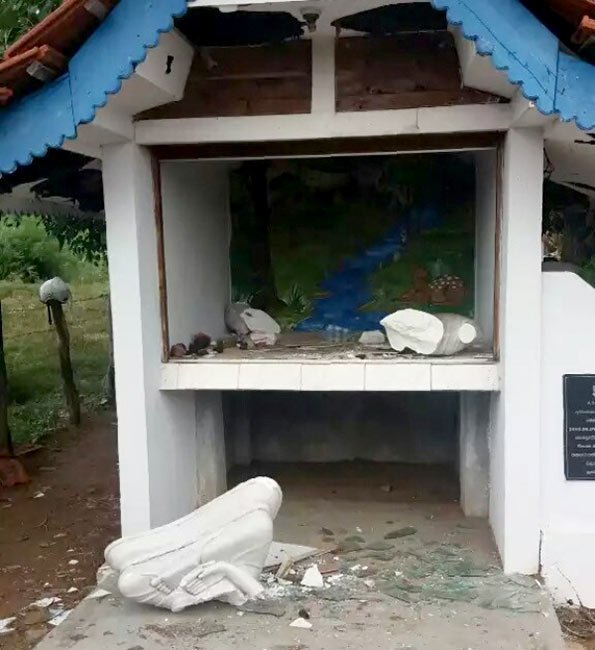 A Fundamental Rights petition filed seeking an Interim Order directing the Law and Order Minister to take action to investigate the incidents of vandalising Buddha statues in the Northern Province is to be taken up for support on January 24 in the Supreme Court.
When the petition came up before a SC three-judge-bench, comprising Justices Priyantha Jayawardena, Upaly Abeyratne and Nalin Perera, the counsel who appeared on behalf of Northern Provincial Council Chief Minister C. V. Wigneswaran sought a further date to support the petition.
The petition was filed by Attorney-at-Law Dharshana Weraduwage.
The petitioner also sought an order directing the Buddha Sasana Minister to take action by all means, to re-build, restore and/or refurbish movable and immovable properties referred in the petition.
The petitioner has cited the Attorney-General, the Northern Provincial Council Chief Minister C. V. Wigneswaran, Law and Order and Southern Development Minister Sagala Ratnayake, Buddha Sasana and Justice Minister Dr. Wijeyadasa Rajapakse and Northern Province Governor Reginald Cooray as respondents.
The petitioner stated that he had foremost interest in the protection and the safety of the Buddha Sasana and its affairs, and has taken measures to foster and protect Buddha Sasana against threats, domestic or foreign.
The petitioner stated that on or around August 31, the Petitioner was shocked and dismayed to see a news item on an English newspaper, titled "Shrine Room Vandalised in Mankulam" with a colour photograph of the shrine room and a broken Buddha statue.
The petitioner said a Buddhist shrine room erected within the the Special Task Force camp in Kanagarayankulam, Mankulam in the North had been vandalised on August 29.
The Petitioner stated that this was not in any way an isolated incident and over the past few months or even before, there have been many demands of the removal of Buddhist Temples, Buddha Statues and shrines, especially, in the Northern Province. Objections have been raised by many parties for the constructions of new Buddhist temples, Buddha statues and shrines in the Northern Province.
The petitioner complained to the Supreme Court, that in the event prompt, adequate and effective, measures are not taken to protect Buddhist temples, shrines, statutes, archaeological and historical sites in or around the Northern Province, they are at imminent threat of being destructed, vandalised and/or removed by force or otherwise.
(Source: Daily News – By Lakmal Sooriyagoda)
Latest Headlines in Sri Lanka