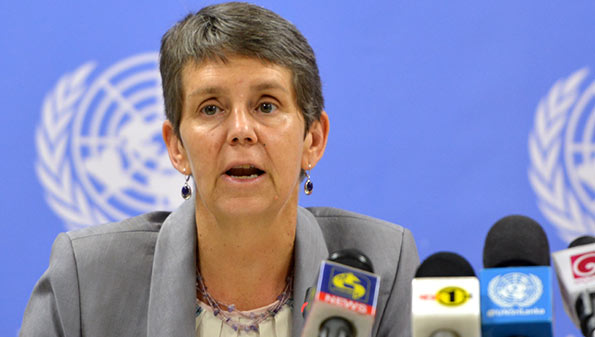 The United Nations on Monday said it is adapting and refocusing its work in Sri Lanka with evolving global and national development priorities.
United Nations Resident Coordinator and United Nations Development Program Resident Representative, Una McCauley said that this year the UN has scaled up its interventions to support the Sri Lankan government's peace building, reconciliation and governance agendas, to tackle the impacts of climate change, promote universal norms and values, localize the Sustainable Development Goals and engage young people to be potential drivers of change in society.
She was speaking at a function held at the UN compound in Colombo to mark UN Day 2016.
"We remain committed to working closely with the people of Sri Lanka to achieve the country's development priorities with the Global Goals firmly in our sight, whilst ensuring that no one is left behind," she said.
She also said that as the process of designing the new Development Framework of the UN in Sri Lanka begins, this is a time to reflect on the need to move away from immediate humanitarian engagements into more long-term developmental and policy support, by finding innovative solutions to create a forward-looking UN.
She says the aim of the UN in Sri Lanka is to work together towards a sustainable Sri Lanka.
Also speaking at the event, Foreign Minister Mangala Samaraweera said that the United Nations system has been in the forefront in drawing attention to the greatest problems faced by mankind, and helped lift large populations across the world out of poverty, promote democracy, take steps to make the world safer for children, draw communities across the world closer, build strong partnerships and forge greater ties.
Samaraweera said that it is his firm belief that no matter how hard it may seem or how challenging it may be, it is by upholding the values upon which the United Nations was founded that the world can overcome the problems that it is faced with.
(Xinhua)