COPE chairman to reveal harassment at the hands of UNP members
Posted by Editor on October 26, 2016 - 7:00 am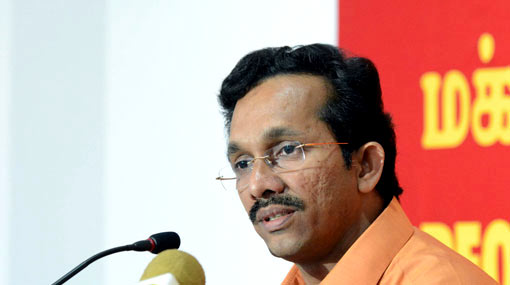 Chairman of the Parliament watchdog committee (COPE), Sunil Handunnetti told Parliament yesterday that he would reveal to the House the harassment he underwent at the hands of UNP members who caused him to walk out of Monday's meeting.
He said so during an adjournment debate when UNP and the Joint Opposition locked horns on the issue of harassing COPE Chairman at the Monday's meeting.
Joint Opposition MP and COPE member Mahindananda Aluthgamage said that COPE chairman had been harassed and intimidated by UNP MPs to get former Central Bank Chairman Arjuna Mahendran exonerated from the Treasury bond scams. "Never in the history of COPE has a chairman been threatened, intimidated and harassed in the manner the UNP MPs did to Handunnetti on Monday," Aluthgamage said.
UNP MP Hector Appuhamy said that MP Aluthgamage was misleading the House. "I was there. No UNP MP harassed the COPE Chairman. We did not threaten him."
MP Aluthgamage: No you did not do anything. That was why he staged a walk out.
At this point COPE Chairman Handunnetti got up and said that he would not comment on the issue, but the day he presented the COPE report he would inform the House and the entire world of what they had done to him on Monday and why he had walked out of the meeting.
(Source: The Island – By Saman Indrajith)
Latest Headlines in Sri Lanka