No Ministers in my Cabinet can be bought for dollars or pounds – President
Posted by Editor on December 1, 2014 - 6:33 am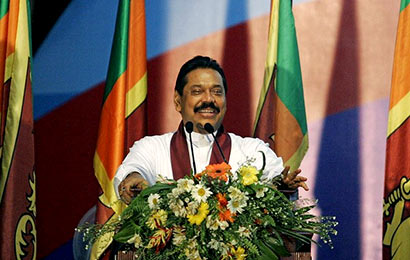 "In my Cabinet there are no Ministers who can be bought with dollars or pounds. The West is keen to see that the country is run by a spineless leader who is ready to dance to their tune. Certain countries want to create a puppet regime here. But, I must say that our people are not ready to elect such a person as their leader to run the affairs of this country." "I will win this Presidential election. No one is a challenge to me and I am confident of winning, no matter who comes from the Opposition,said President Mahinda Rajapaksa.
The President was speaking at a well attended meeting to felicitate Investment Promotion Minister Lakhsman Yapa Abeywardene who completes 25 years in politics. The Rajatha Mahima Felicitation ceremony to fete Minister Lakhsman Yapa Abeywardene was held at the Sanath Jayasuriya Sports Esplanade in Matara yesterday.
The President said there are rumours to say that he would be dragged to The Hague to be tried before the International Court of Justice. The Al Jezeera TV station had reported it.
"As the saying 'none will build houses in the cemetery if they fear the devil' goes, if I was afraid of Pirabhakaran like those leaders before me, I too would have stayed without doing anything to defeat the LTTE. But, I did defeat the LTTE and I was not afraid of Pirabhakaran," the President added.
He also said that those who cannot take criticism kill those who criticize them like they did to Richard de Soyza and the Dehiwala Municipal Council member who was shot by unknown gunman. Any one can produce a drama against me and I have the guts to enjoy it, unlike the leaders of the past.
Some Sunday newspapers are very critical of me and the very same newspapers say that there is no freedom," President added.
"Crossovers from one political party to another is very common and there is nothing surprising about it.
We all know what happened to those who left the Sri Lanka Freedom Party in the past," the President said.
Members of the Maha Sangha and other religious leaders along with Ministers Dullas Alahapperuma, Mahinda Yapa Abeywardena, Chandrasiri Gajadherra,Deputy Minister Hemal Gunasekera, Southern Province Chief Minister Shan Wijayalal de Silva were also present.
(Daily News)
Latest Headlines in Sri Lanka