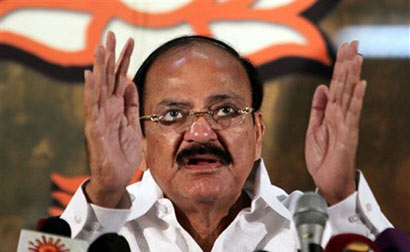 Union Minister for Urban Development and Parliamentary Affairs M. Venkaiah Naidu said on Sunday that the Sri Lankan government should give equal rights and opportunities to the Tamils by establishing a constitutional mechanism.
At the launch of a State-level membership drive of the BJP here, he said those faulting India's policy towards Sri Lanka should remember that the island nation, or for that matter other neighbours such as China, could not be antagonised.
Mr. Naidu said it was welcome that after the intervention of Prime Minister Narendra Modi, Sri Lanka unconditionally released five Indian fishermen sentenced to death, and the spirit had to be continued.
He said a system for speedy release of fishermen detained by the navy of either country for allegedly crossing the maritime boundaries, by accident or deliberately, would help to establish lasting relations between the two countries.
(The Hindu)