No more excessive tax burdens: PM
Posted by Editor on November 1, 2018 - 7:25 am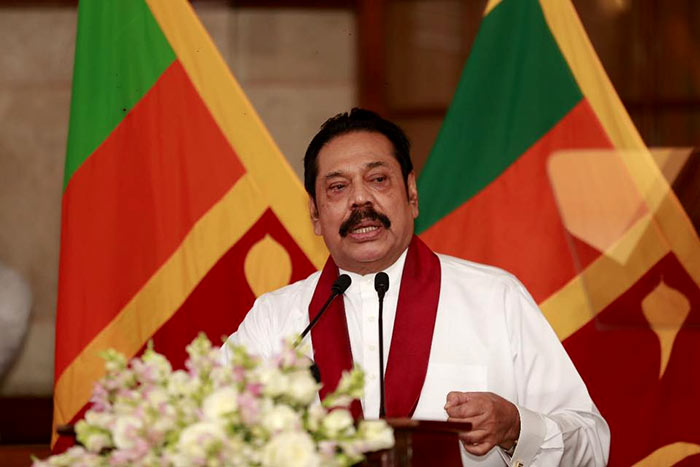 Prime Minister Mahinda Rajapaksa said the government must ensure that taxes will not become a burden to the public.
He also said the tax collection system should be simplified. Prime Minister Mahinda Rajapaksa was speaking after assuming duties as the Finance and Economic Affairs Minister at the Ministry premises yesterday.
Premier Rajapaksa assured that he will transform Sri Lanka into a country with rapid development and progress in the region by building an economy which brings dividends to all sectors of the country.
He also stressed the importance of putting an end to the era of imposing excessive burden of taxes on people. He further said that with the high cost of living at present, the government will take steps to provide relief to the public in future.
As it was reported the economic growth of the country is less than three percent and the cost of living has also risen. Both direct and indirect taxes have been taken in to a complex situation. The entire business sector of the country has collapsed. High interest rates have also become a burden to the public. The unstable inflation rate has resulted in the instability of the economy and the political situation in the country.
Though the country's budget deficit has been reduced to five percent, it has been done by cutting off development expenses. Those who are now shedding tears for democracy have completely violated the country's democracy by postponing holding elections. They are trying to point out that President Maithripala Sirisena is the only President who has prorogued Parliament. Parliament was scheduled to be convened on November 5 and it was prorogued only for 11 days. "Late President Premadasa prorogued Parliament for a few months. But his son can't remember that history. They are trying to show the entire world that we are leading the country towards dictatorship," he said.
Prime Minister Rajapaksa further said that the fuel price formula has to be revised and a new mechanism should be introduced to bring the fuel prices in the market under control. He said the fuel price formula raised many concerns among the public.
The Prime Minister said since at present everything is imported the local farmer has been unfairly treated. In future, priority will be given to local products and make the country self-sufficient to give local farmers an opportunity.
He also stressed the importance of safeguarding the country's foreign reserves. "We have to implement an economic policy which could improve all sectors, including exports, tourism and foreign employment. Local and foreign investors will have to play the key role in this process," the Premier said.
(Source: Daily News – By Ishara Mudugamuwa and Kamal Jayamanne)
Latest Headlines in Sri Lanka