US weighs in on political crisis in Sri Lanka
Posted by Editor on November 1, 2018 - 8:31 am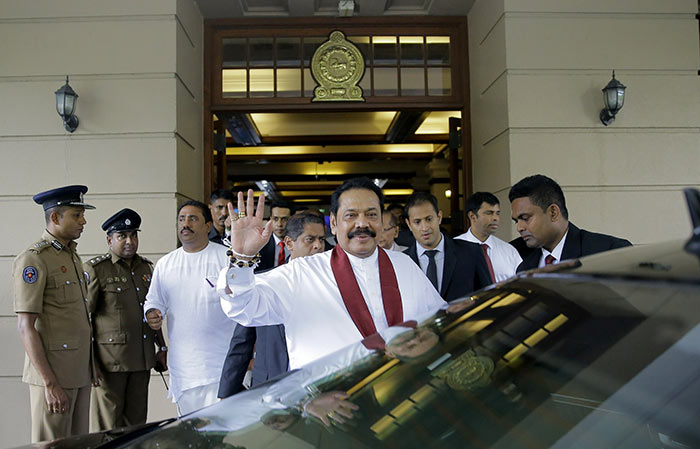 The United States weighed in Wednesday on a political crisis that has engulfed the Indian Ocean island nation of Sri Lanka since the president abruptly fired the prime minister and replaced him with an authoritarian former leader who has been accused of serious human rights abuses.
State Department spokesman Robert Palladino told reporters, "It's up to the parliament to decide who the prime minister is." That follows the Sri Lankan president's sacking last week of Ranil Wickremesinghe and his replacement with former leader Mahinda Rajapaksa, which critics say violates the constitution.
President Maithripala Sirisena swore in a new Cabinet under Rajapaksa on Monday despite a warning from the parliament speaker of possible violence if lawmakers were not summoned immediately to resolve the crisis. Sirisena suspended Parliament in an apparent move to give Rajapaksa time to muster enough support to survive any no-confidence vote.
The political upheaval and challenges to the democratic process could endanger improvements in U.S.-Sri Lanka relations since Rajapaksa lost power in elections in 2015. He had presided over the defeat of ethnic Tamil rebels in the nation's quarter-century civil war that ended in 2009. However his government became alienated from the West over its failure to address allegations of war crimes in the final months of the conflict and his crackdown on dissent.
For the past three years, as Sri Lanka has had a fragile unity government, the U.S has expanded relations that were curtailed during the later years of Rajapaksa's rule, including renewed military cooperation. Sri Lanka has a strategic location on sea lanes linking Asia to Africa and Europe, where Washington vies for influence with China.
The U.S. has also increased development aid. The government-funded Millennium Challenge Corporation has been preparing a five-year assistance package, or compact, worth hundreds of millions of dollars that was expected to be finalized in the coming weeks. That could now be thrown into doubt.
"No actions are being taken either to move the compact forward or to suspend it while we assess the situation in country," MCC said in a statement to The Associated Press. The agency said it expects Sri Lanka "to remain committed to democratic governance, which includes respect for fundamental freedoms and rule of law."
The developments in Sri Lanka will also cause concern in Congress, which has conditioned assistance to the island on post-war justice and the restoration of civil and human rights.
Vermont's Sen. Patrick Leahy, the top-ranking Democrat on the powerful Appropriations Committee, said that if the appointment of Rajapaksa as prime minister stands, "it will pose a grave challenge to U.S. engagement with that government."
He said that when Rajapaksa was in power, he ran "the government as a criminal enterprise, making sweetheart deals with China, persecuting the Tamil minority and wrongly imprisoning political opponents and journalists."
In addition allegations of rights abuses, Rajapaksa's government came under fire in Sri Lanka for taking out billions of dollars in loans from China to build a scantly used port. He was also criticized for the lavish lifestyles of his three sons and nepotism that saw his brothers holding sway in many key institutions.
But as the current government's popularity has waned, and the Sri Lankan economy has stalled, Rajapaksa's political fortunes have improved. His party swept local elections in February.
(AP)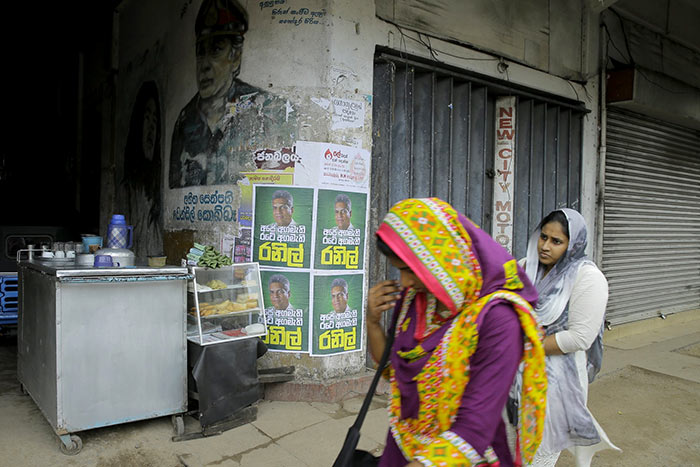 Latest Headlines in Sri Lanka