No need for resolution as SL already implementing LLRC recommendations – Samarasinghe
Posted by Editor on February 27, 2012 - 9:40 pm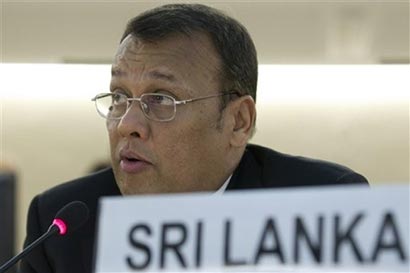 There is no need for a resolution on Sri Lanka calling for the implementation of the LLRC's recommendations as this is already being done by the Government, Plantation Minister and President's Special Human Rights Envoy Mahinda Samarasinghe said addressing the 19th session at the UN Human Rights Council a short while ago.
Samarasinghe reminded the council that the LLRC obtained statements openly and freely hence making the statements verifiable. This is unlike the UN Expert Panel report which took statements from individuals behind closed doors ensuring twenty years of anonymity to those providing claims, he added.
"This meant that the testimony could not be verified or tested for its probative value."
"The LLRC Report, on the other hand, places before us material of the basis on which the Commissioners arrived at their conclusions, which are substantive and verifiable," he pointed out.
Sri Lanka has already begun the implementation of the Lessons Learnt and Reconciliation Commission (LLRC) in areas such as rehabilitation of former LTTE cadres, demining, detention of suspects, land issues, implementation of the language and a national consensus on the legitimate aspirations of all the communities in Sri Lanka, Samarasinghe stated.
He added that the Sri Lankan Government will implement the recommendation of the LLRC in a systematic and thorough manner.
Courtesy: Ada Derana / Pix by AP

Latest Headlines in Sri Lanka