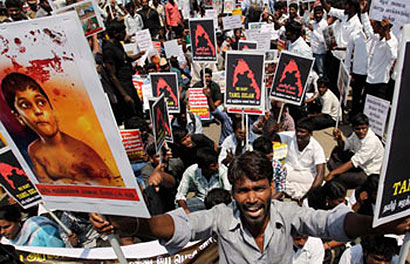 Cuddalore MP K S Azhagiri raised doubts over Prabhakaran's son Balachandran's death and claimed that there was no video evidence on the killing by the Sri Lankan armed forces.
The Congress MP made the statement while addressing a public meeting arranged by the youth Congress at Cuddalore Old Town on Sunday night.
"Some parties were playing politics by taking up the issue of 12-year-old Balachandran's death. However, there was no video evidence available on how Balachandran was killed. It was a practice among the terrorists that in order to avoid being caught by the enemy they either consume cyanide or shoot each other. It was an unlawful act to kill a child," he said.
On the ongoing Sri Lankan issue, he said that the Sri Lankan Tamils and the LTTE objectives were completely different.
He said, "Independent Tamil Eelam is the demand of the LTTE alone, but that not of the Sri Lankan Tamils. Elected Tamil leaders in Sri Lanka are not asking for an independent Eelam.
Only the LTTE and its supporters in Tamil Nadu are repeatedly raising this demand."
Explaining the Congress' move to pass a resolution in Parliament on the Sri Lankan issue, he said, "When an all-party meeting was held in New Delhi to discuss the draft resolution, no other national or regional parties except the AIADMK, the DMK and the Congress supported the resolution."
"The CPI in Tamil Nadu had been demanding that an anti-Lanka resolution be passed in Parliament, but the party's MP Gurudas Dasgupta categorically opposed the move during the all-party meeting. This shows the gravity of matter at the all-India level," he added.
"Political parties in Tamil Nadu had failed to garner the support of those at the  national level on the Lankan issue. Instead, they were blaming Congress party in this matter," the Congress MP added. (The New Indian Express)