Nomination denied to Sarath Kumara
Posted by Editor on July 29, 2013 - 7:38 am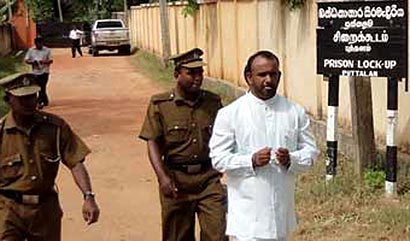 Re-remanded former Provincial Councillor, Ananda Sarath Kumara, who, it was alleged, had made a teacher kneel before him in the presence of her students, was not included in the UPFA's nomination list for the upcoming North-Western Provincial Council elections, political sources said yesterday.
Along with Sarath Kumara, former Pradeshiya Sabha Chairman of Karuwalagaswewa, Neil Weerasinghe, has also been dropped from the UPFA list, the political leadership in charge of nominations at the NWP confirmed.   Weerasinghe was arrested and released on bail recently for assaulting an irrigation engineer.
"The nomination list is in its final stage, and there is space left for only one candidate. Though, it is yet to be filled, we can assure that neither Sarath Kumara nor Weerasinghe will be given nomination," a Party source said.
The District Judge of Anamaduwa, last week re-remanded disgraced Provincial Councillor, Ananda Sarath Kumara, for threatening the witnesses in the case. Earlier, he was released on bail on the explicit condition that he does not threaten any witnesses.
The husband of the teacher, who earlier lodged a complaint with the Nawagattegama Police, had once again complained that the former Provincial Councillor had threatened the witnesses.
(Source: Ceylon Today)
Latest Headlines in Sri Lanka