Norochcholai power plant: Another false start today? Capacity below 70 per centBy Ifham Nizam
Posted by Editor on February 21, 2012 - 7:36 am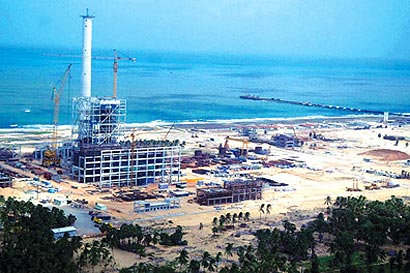 After nearly a month, the country's first coal fired 300 MW power plant at Norochcholai will resume generation of electricity today. However, experts are wary of possible fresh trouble.
Senior officials of the Ceylon Electricity Board have expressed their dismay to the Chinese Company that built the Norochcholai plant in Puttalam.
A senior Board official told The Island yesterday that usually a new coal fired plant's output was more than 90 per cent but the Norochcholai plant's output was less than that 75 per cent. And, on average a plant functioned about 85 percent.
The Plant which was out of operations for 25 days was to be connected to the national grid last Wednesday, but once again it broke down with a problem in the seal of the generator.
CEB Chairman, Anura Wijepala, who visited the plant yesterday, told The Island that the plant would contribute to the national grid from today as the initial technicalities were attended to yesterday.
Earlier this month, the CEB decided to take up the frequent technical problems strongly with its builder the China Machinery and Engineering Corporation (CMEC).
Norochcholai…
The Chairman said it cost the CEB on average Rs. 80 million a day to meet the power shortfall, caused by the Norochcholai plant's failure, with costly thermal electricity.
The CEB would now be going for a contractual option with the plant builder to take remedial action, he said.
The Norochcholai coal-fired power plant was built under a US$ 450 million credit line from China Export-Import Bank.
The plant providing 300 megawatts to the national grid, was commissioned in March 2011.
Prior to the latest breakdown, the plant was out of service for a week and it resumed generation of electricity from the first week of January.
Courtesy: The Island
Latest Headlines in Sri Lanka