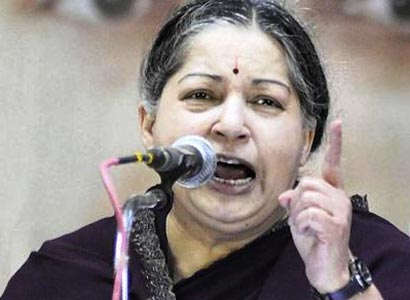 Tamil Nadu Chief Minister Jayalalithaa wrote yet another letter to Prime Minister Narendra Modi, this time to seek action to secure the release of 50 fishermen arrested by the Sri Lankan Navy in the early hours of Tuesday.
She also pointed out to the Prime Minister that 43 fishermen arrested last week were yet to be repatriated. The big point she underlined in her letter was that despite the Modi government's success in securing the release of fishermen so far, the Sri Lankan authorities continue to hold the fishermen's boats.
"Your Government had acted promptly on earlier occasions which led to the release of 225 apprehended fishermen from Sri Lankan custody from time to time.
However, as part of a deliberate and callous design, the Sri Lankan side is yet to release the 55 boats and fishing gear which were impounded from Tamil Nadu fishermen apprehended earlier," read Jayalalithaa's letter to Modi, dated Tuesday.
"Without their fishing boats and gear, the poor fishermen have lost their means of livelihood. This is causing considerable disquiet and unrest amongst the fishermen community in the coastal districts of Tamil Nadu. Therefore, I request you again to kindly take decisive steps to ensure the immediate release of the boats and fishing gear of our fishermen which are still in Sri Lankan custody," she added.
"I once again request you to immediately take up the issue of frequent apprehension of our fishermen and their boats by the Sri Lankan Navy at the highest diplomatic levels so as to secure the immediate release of all the 93 fishermen from Tamil Nadu including the 43 fishermen apprehended earlier and the 62 boats, including the 55 boats impounded earlier, from Sri Lankan custody," Jayalalithaa's letter said.– Indian Express