NTJ received over Rs.1000 million from three foreign countries – Patali
Posted by Editor on May 15, 2019 - 7:16 am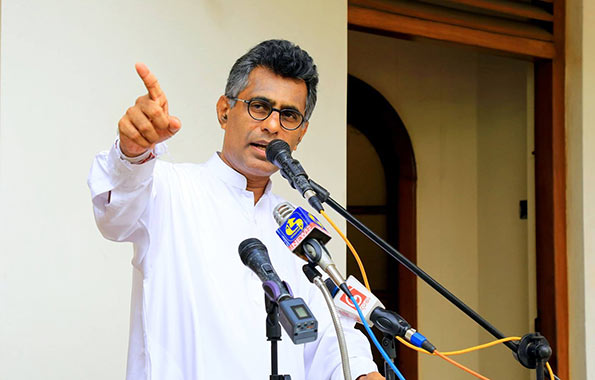 The National Thowheeth Jamaath (NTJ) has received over Rs.1000 million as funds from three foreign countries over the last few months, Megapolis and Western Development Minister Patali Champika Ranawaka said yesterday.
According to Minister Ranawaka, the NTJ has received the said amount of funds from September 2018 onwards.
Minister Ranawaka pointed out that there are many supportive and offensive stages in terrorist groups and all these stages should be eliminated in order to eradicate terrorism from the country.
He observed that there are establishments who provide financial and other logistic support to terrorism without involving in offensive attacks.
Minister Ranawaka made these observations at the ceremonial conference of "The National Path" organized by the People's Movement for the Development and the Protection of the Nation which was held yesterday at BMICH.
The movement forwards a series of proposals for immediate implementation by the government and its institutions responsible for national security, law and order.
"It is quite evident that these extremists in our country are operating in a maddening manner. We should remember that many people who joined the JVP or the LTTE had more economic reasons than any other reason. But this terrorism is different in nature. They come in BMW and Benz vehicles to commit suicide. This kind of terrorism is now spreading all over the world. This is one stage of terrorism. Another stage is aiding and funding. They don't directly inflict violence, but they support terrorism in other ways."
Speaking on the recent mob attacks targeting the Muslim community, Minister Ranawaka said, while people have the freedom to choose what shops to visit and what not to, nobody has the right to destroy any shop, religious institute or any property.
He said stern action should be taken against those persons involved in such vandalism.
Minister Ranawaka also said that only a few Islamist extremists exist in the country while the majority of the Muslim community are not the culprits of terror unleashed at the Easter Sunday terror attack.
Minister Ranawaka observed that the NTJ managed to create a major impact to shatter the reconciliation process in the Sri Lankan society while other extremist groups' actions have complemented the development.
Minister Ranawaka also pointed out the importance of deriving examples from Asian countries such as Malaysia, Bangladesh and Indonesia to counter religious extremism. "Before we seek FBI support, we should turn to our neighbouring countries to take examples to overcome this issue," he pointed out.
Emphasizing on the importance of providing effective solutions and solid preventive measures to the budding terrorism in the country, Minister Ranawaka said that, "It is our responsibility to decide whether we are going to solve this issue in three months or if we are going to drag this matter for three decades as we once did. We cannot allow scoundrels to use this situation as a political agenda. We cannot hand this issue over to the defense authorities and get away with it.
This should be a collective effort. We cannot allow our children to flee this country and we cannot let our grandchildren to become citizens of other countries. We shall not allow this country to become a killing field for international terrorism and their disciples in this country."
Ranawaka also observed that if there is any responsible party that attempt to slip away from the duty of overcoming the dire situation in the country, they will take necessary steps to remove such persons if needed.
(Source: Daily News – By Amali Mallawaarachchi)
Latest Headlines in Sri Lanka